I have looked in the past at situations where car owners with loans have been forced to buy insurance:
Does Your Financed Car Have Real Car Insurance?, Mike Bryant | February 08, 2012 9:52 AM
These situations cost a lot more money and don't provide the coverage that ordinary insurance provides. Usually, they hit those who have the least money the hardest. It is situations where people fall behind and the financing companies provide coverage. I have always wondered how the coverage is even legal, considering how little protection it provided beyond the financier's money.
The Minneapolis Tribune looked at the situation concerning homeowners:
Billed as a policy of last resort, force-placed insurance is routinely imposed on homeowners by lenders when property is not covered against tornados, floods, and other hazards. The coverage can cost 10 times as much as typical homeowners insurance despite offering less protection.

Across the country, the high premiums are pushing hundreds of thousands of vulnerable homeowners closer to default as the costs are added to their monthly mortgage.

When Keeney's homeowners policy lapsed, she was pushed into a forced-placed policy at an annual cost of $4,185, well above the $1,655 she used to pay State Farm. "It's ridiculous," she said.
The cost is part of the loan and looks like real insurance. When you look at how expensive the fake coverage is, the person could have bought solid protection and often for less. I hope the legislature will look at these policies and stop this gouging of the consumer.
These policies are bad . Make sure you don't have one.
.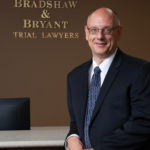 A founding partner with Bradshaw & Bryant, Mike Bryant has always fought to find justice for his clients—knowing that legal troubles, both personal injury and criminal, can be devastating for a family. Voted a Top 40 Personal Injury "Super Lawyer"  multiple years, Mr. Bryant has also been voted one of the Top 100 Minnesota  "Super Lawyers" four times.