There is all sorts of talk about who to really feel sorry for.
Does anyone not feel horrible about the children who were victimized?
Is it sad that a honored coach had to step down?
Were subordinates doing the right thing?
What about the players on the team right now?
All of these discussions miss the point of what should have never happened. Once there was one child abused and people knew about it, everything should have stopped right there. There never should have been another victim.
The very best thing that comes out of exposure of these pedophiles is that they will never hurt another child. They need to be removed from any opportunity. For every person who looked the other way, who banned him from being around their kids, and excepted his apologies, there was an opportunity to make sure that these horrible events did not continue.
Zero tolerance is done for a preventative measure. The key is preventing future children from being put in harm's way.
The very nature of having a strong tort system is to make sure that punishment is a deterrent. The addition of rare punitive damages is to send a message that these types of actions never take place again.
Abuse of children and the continued silence by the offenders needs to be prevented. If you suffered, saw, or suspected such events, it is important to know that there is help out there.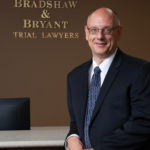 A founding partner with Bradshaw & Bryant, Mike Bryant has always fought to find justice for his clients—knowing that legal troubles, both personal injury and criminal, can be devastating for a family. Voted a Top 40 Personal Injury "Super Lawyer"  multiple years, Mr. Bryant has also been voted one of the Top 100 Minnesota  "Super Lawyers" four times.