As always we are keeping an eye on the events that are taking place around the world with clergy abuse cases. Here are a couple that recently caught our eye:
– After a number of exchanges the Vatican looks to still be hiding from the light of true discovery. The Seattle PI pointed out:
The Vatican gave Anderson more than 1,800 pages of documents last Friday, marking the first time the Vatican provided documents in response to a sex abuse lawsuit. But Anderson claims that relevant documents written by Vatican officials were left out because local dioceses have produced their own copies of such paperwork in this and other cases.
So basically, documents that have been turned over in other cases, that clearly came from the Vatican, isn't a part of the discovery from the Vatican. Discovery is a vital part of the process to make sure the system works. This fight will be one to keep an eye on.
– Jeff Anderson and Associates pointed out what is often the most troubling part of looking at these cases. The abuse isn't over:
A lawsuit filed by a Chicago teen who was sexually abused as a child by Daniel McCormack at St. Agatha parish beginning in 2004 and continuing until January 2006 when McCormack was arrested, claims that the Archdiocese of Chicago knew as early as 1992 and no later than 2000 that McCormack was sexually deviant and had previously sexually abused numerous other children.

Nonetheless, the Archdiocese allowed the priest to remain active and have access to minor children even after a police investigation and its own review board's recommendation to remove him from ministry.
The abuse isn't a just a problem from the 60's and 70's that is still being picked at like an old soar. It is ongoing and involves leaders that simply don't get it. Zero tolerance needs to be the rule. The abuse has to stop.
Abuse of children and the continued silence by the offenders needs to be prevented. If you suffered, saw, or suspected such events, it is important to know that there is help out there.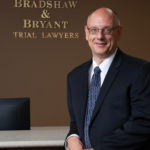 A founding partner with Bradshaw & Bryant, Mike Bryant has always fought to find justice for his clients—knowing that legal troubles, both personal injury and criminal, can be devastating for a family. Voted a Top 40 Personal Injury "Super Lawyer"  multiple years, Mr. Bryant has also been voted one of the Top 100 Minnesota  "Super Lawyers" four times.