There is a list of credibly accused abusers who were or are from the Diocese of Winona, which until now has remained hidden. In fact, there has been a fight to keep the list from the public. Most recently, the Minnesota Supreme Court ruled on the civil case and held that the case was to be dismissed. Earlier, the lower court had suppressed the disclosure of the list. With the dismissal of the case, the list remains only with the Church.
Explain to me why the Church is holding on to this list? Because they are choosing the protection of pedophiles over the the truth. They are scared they will look bad. They are more concerned about their assets than protecting and helping those who were abused.
Name another institution anywhere that would be allowed to do that?
Watch this video about 10 minutes in and listen to a survivor and his battle in the case:
http://www.youtube.com/watch?feature=player_embedded&v=YURNurGleUE#!
Jim Keenan is a survivor who should be protected and deserves to have his voice heard.
The Church could prove they believe in zero tolerance by coming forward with this and every list that they have. Stop the protection and the hiding.
They needed to use the zero tolerance doctrine to shine light on what happened and to ensure that it would never happen again. They need to not move priests around and to quit putting them in situations which allow great access to kids. They needed to stop hiding.
Abuse of children and the continued silence by the offenders needs to be prevented. If you suffered, saw, or suspected such events, it is important to know that there is help out there.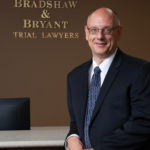 A founding partner with Bradshaw & Bryant, Mike Bryant has always fought to find justice for his clients—knowing that legal troubles, both personal injury and criminal, can be devastating for a family. Voted a Top 40 Personal Injury "Super Lawyer"  multiple years, Mr. Bryant has also been voted one of the Top 100 Minnesota  "Super Lawyers" four times.