I've written before about the school assault bill that got passed on the last day of the legislative session, but was later vetoed. It was the anti-bullying bill. It's intent was to add sexual orientation and physical appearance to the sorts of bullying not allowed in schools.
With the veto the Governor did say that he would direct Department of Education Alice Seagren to review the existing anti-bullying policy and to contact school districts to ensure they are meeting the requirements of the current law, which was implemented in 2005.
The Minneapolis Tribune recently had a real life story that is heartbreaking. Their 12 year old son:
an honor student who faced merciless teasing on the school bus, came home on the afternoon of Feb. 8, 2006, went into the family's barn and hanged himself.
Numbers from the National Coalition of Anti-Violence Programs suggest that something needs to change. In Minnesota, there were 73 cases of hate crimes committed in 2008, a 48 percent increase. There was a 185 percent increase in the number of incidents involving violence, and a 20 percent increase in the number of incidents involving more than one assailant.
The Children's Exposure to Violence: A Comprehensive National Survey, was published by the Office of Juvenile Justice and Delinquency Prevention with support from the Centers for Disease Control and Prevention found that:
More than 60% of youngsters had either direct or indirect exposure to violence within the past year
Nearly half the children surveyed were assaulted at least once in the past year, and more than one in 10 were injured as a result.
Nearly one-quarter of the children were the victim of a robbery, vandalism, or theft.
About 10% were victims of maltreatment (including physical and emotional abuse, neglect or a family abduction), and one in 16 were victimized sexually.
There is a debate as to if these increased numbers are due to better reporting, but the numbers are so big, it is imperative that this issue be revisited this next session.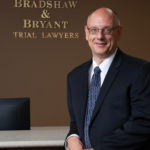 A founding partner with Bradshaw & Bryant, Mike Bryant has always fought to find justice for his clients—knowing that legal troubles, both personal injury and criminal, can be devastating for a family. Voted a Top 40 Personal Injury "Super Lawyer"  multiple years, Mr. Bryant has also been voted one of the Top 100 Minnesota  "Super Lawyers" four times.