So it's time for another email and video from the U S Chamber. This time, the video enclosed is about a poor small business owner who is facing an ADA lawsuit. They make claims about not being told soon enough and that things were done which could lead to basically shutting down all of the businesses in California. Wow, that really is quite the case. Except:
1) They really do skirt the issue that they actually weren't ADA compliant. Now they did fix it, but still the basic question of a violation is true.
2) The owner Ron Piazza is the guy who told CNN this about his business:
Clearly it represents America and we were fortunate enough to be accepted around the world as a little part of Americana, and I think that we do it right, and I think there's lasting power when an organization stays with its roots and still makes the same hamburger today that we made in 1955.
Odd that nowhere in the Chamber video does he disclose that this is not some mom and pop store, but is actually one of his many McDonald's franchises. Seems like if you represent America, you wouldn't hide that fact any where. Instead the spokesman says:
"Abusive lawsuits are not victimless," said ILR President Lisa Rickard. "Many people think big-dollar lawsuits are only filed against 'deep-pocket' corporations. Yet, in this current economic climate, many locally-owned businesses like Ron Piazza's are just one lawsuit away from closing their doors."
3) Piazza's business profile is SIC: 5812
Sales: $5-10 Million
Employees: 250-499
This is the person that a couple of the follow up blogs are claiming spent more money on the lawsuit than what the store made? Really? Seems like maybe he's getting over charged.
I know that there are small business people who are involved in lawsuits. Maybe all of those businesses that are sued by corporate conglomerates over copyright violations should be featured. But to hold this guy out as the symbol of the small business, seems like a bigger stretch, than the two inches the mirror was out of place.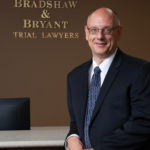 A founding partner with Bradshaw & Bryant, Mike Bryant has always fought to find justice for his clients—knowing that legal troubles, both personal injury and criminal, can be devastating for a family. Voted a Top 40 Personal Injury "Super Lawyer"  multiple years, Mr. Bryant has also been voted one of the Top 100 Minnesota  "Super Lawyers" four times.