It is sad and almost predictable when it comes to some of the actions of the Catholic Church. Take for example the charges that were brought against Scott Domeier, former accounting director for the Archdiocese of St. Paul and Minneapolis, for alleged theft from the Archdiocese. It's money, so right to the police the Church goes.
But what happens when a Priest is accused of being a pedophile? History tells us that the story is hidden, the Priests are moved, and the survivors are shamed into silence. There isn't a direct line to the police to investigate and to protect the children. It makes you wonder why they so believe in the law and the criminal system in the one situation and almost never in the other?
Stepping back, it is clear that it's also about money. They have shown more concern about losing money than they have about those who suffer at the hands of those who steal from the children much more than the silver of the Church.
The Church could prove they believe in zero tolerance by coming forward and taking responsibility. Stop the protection and the hiding.
They needed to use the zero tolerance doctrine to shine light on what happened and to ensure that it would never happen again. They need to not move priests around and to quit putting them in situations which allow great access to kids. They needed to stop hiding.
Abuse of children and the continued silence by the offenders needs to be prevented. If you suffered, saw, or suspected such events, it is important to know that there is help out there.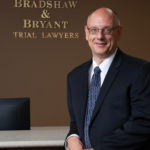 A founding partner with Bradshaw & Bryant, Mike Bryant has always fought to find justice for his clients—knowing that legal troubles, both personal injury and criminal, can be devastating for a family. Voted a Top 40 Personal Injury "Super Lawyer"  multiple years, Mr. Bryant has also been voted one of the Top 100 Minnesota  "Super Lawyers" four times.