Companies that welcome customers onsite have a legal obligation to keep their premises reasonably safe. If they fail to do so and someone gets hurt as a result, the business establishment could be financially liable for any damages.
As with most personal injury claims, premises liability cases come down to the defendant's duty of care and whether it was breached. A business's duty to maintain its premises extends to all invitees and licensees, which might include customers, vendors, delivery agents, and contractors.
Before claimants can recover a single dollar, they must prove liability and damages. This is where a premises liability attorney can help. A seasoned lawyer is your best source of advice after an injury on a commercial property.
Read on to learn the answers to a few FAQs about slip and fall accidents:
What Can I Do at the Scene?
Proving negligence after a slip and fall always starts at the scene. Injured parties should photograph the area from all angles immediately. Otherwise, employees might alter or remove the hazard that caused the accident, thereby giving the company a chance to dispute liability.
You should also obtain the names and contact information of any eyewitnesses. Your premises liability attorney will want to interview them when building your claim. And unless you need emergency medical care, ask for a copy of the incident report before leaving.
Every reputable business should have a procedure in place for recording accidents. Requesting a copy of their version of events at the scene will begin the paper trail detailing the incident. It will also provide a critical piece of evidence: the company's own admission that the accident did, in fact, occur on their premises. 
What Can I Do After the Incident? 
Upon leaving the scene, your health should be your top priority. After you seek medical care, though, it's time to consider the financial implications of the slip and fall.
Medical bills, lost wages, and physical therapy sessions can add up quickly. Since you only have a limited amount of time in which to file a formal suit, it is wise to call a premises liability attorney as soon as possible.
In the state of Minnesota, accident victims typically have two years from the date of the incident to bring a lawsuit against any negligent parties; however, if you slipped and fell on government property, you have just 180 days to file a claim against the liable city, county, or state agency. 
Discuss Your Case with a Premises Liability Lawyer in St. Cloud 
If you were hurt in a preventable slip and fall accident while running errands and you want to hold the negligent company financially liable, contact Bradshaw & Bryant. Our premises liability attorneys will use their vast network of legal resources to pursue the compensation you need to cover medical bills, lost income, and future rehabilitation. Call 320-259-5414 or fill out our Contact Form to schedule a free case evaluation with one of our strategic personal injury lawyers in St. Cloud.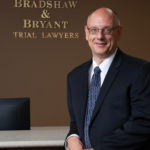 A founding partner with Bradshaw & Bryant, Mike Bryant has always fought to find justice for his clients—knowing that legal troubles, both personal injury and criminal, can be devastating for a family. Voted a Top 40 Personal Injury "Super Lawyer"  multiple years, Mr. Bryant has also been voted one of the Top 100 Minnesota  "Super Lawyers" four times.