Thousands of drivers have been cited for violating Minnesota's hands-free cellphone law. Signed by Gov. Tim Walz in April 2019, the law prohibits motorists from holding a mobile device in their hand while driving under most circumstances.
Enacted in August 2019, the hands-free law requires drivers to use single-touch activation or voice commands when performing certain cellphone functions. According to FOX 9, the State Patrol cited 2,317 people for violating the new law in August alone. Although the adjustment period was foreseeable—especially for motorists who don't have a vehicle equipped with Bluetooth technology—the figures from September weren't any better. In fact, they were considerably worse; the State Patrol issued 2,729 citations in September, representing an increase of more than 17 percent.
While some of this jump may be attributed to the fact that law enforcement personnel are simply getting better at identifying offenders, the State Patrol fears that many drivers are regressing in their compliance.
These numbers indicate that Minnesota law enforcement authorities are committed to keeping distracted drivers off the roads. While this is bad news for people who make a habit out of distracted driving, it's a step in the right direction when it comes to traffic safety.
What Are the 3 Categories of Driver Distractions?
The National Highway Traffic Safety Administration has grouped all driver distractions into three categories: physical, visual, and cognitive. Some distractions fall into more than one category. For instance, eating and drinking falls into all three, as does texting behind the wheel. The more categories that a particular distraction fits, the more dangerous it usually is.
What Should I Do If I'm Injured in a Distracted Driving Accident?
If you were struck by a distracted driver, there are steps you can take in the immediate aftermath that might increase your chances of filing a successful personal injury claim. Such steps include:
• Call the police;
• Photograph the wreckage;
• Exchange insurance details and registration information with the other motorist;
• Gather the names and phone numbers of any eyewitnesses;
• Seek medical care in a timely manner;
• Follow your doctor's orders;
• Track all expenses arising from your injuries;
• Keep a personal injury journal;
• Refrain from discussing your case on social media; and
• Consult a personal injury lawyer.
Speak with a St. Cloud Car Accident Attorney Today
If you were hit by a motorist who was violating Minnesota's hands-free cellphone law, you may be entitled to compensation for the resulting damages. To find out if you have grounds for a claim, contact Bradshaw & Bryant.
We will help you determine the most strategic way to proceed given the facts of your case. We have a track record of success in distracted driving accident claims, and we are not afraid to proceed to litigation if the opposing party refuses to settle. Call 320-259-5414 or fill out our Contact Form to schedule a free case review with a car accident lawyer in St. Cloud.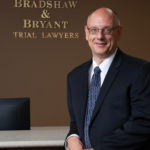 A founding partner with Bradshaw & Bryant, Mike Bryant has always fought to find justice for his clients—knowing that legal troubles, both personal injury and criminal, can be devastating for a family. Voted a Top 40 Personal Injury "Super Lawyer"  multiple years, Mr. Bryant has also been voted one of the Top 100 Minnesota  "Super Lawyers" four times.