If you were a victim of clergy sex abuse, you may be entitled to compensation for the mental anguish and other damages you have incurred as a result. While filing a personal injury claim won't erase the trauma you have experienced, it could provide the means to put your life back together so you can go on to thrive.
Going up against an institution as powerful as the Catholic Church can be daunting, and it's not a fight you should take on alone. Thankfully, a tenacious and resourceful legal team can help you navigate every step of the proceedings and protect your rights.
In addition to hiring a personal injury attorney, you can contribute to the strength of your claim by:
1. Attending Therapy
If you have yet to seek treatment for the emotional distress left in the wake of the abuse, you should do so before taking legal action. Over the course of the proceedings, you will have to revisit various aspects of the incident or incidents in question, and a skilled mental health provider will be able to teach you the coping tools needed to do so.
Look for someone who specializes in treating victims of sex abuse and who knows how to conduct psychological evaluations for legal proceedings. Depending on the circumstances, your provider's deposition could serve as valuable evidence to strengthen your case.
2. Writing Down Everything You Remember About the Incident in Question
Once your psychiatrist, psychologist, or counselor has prepared you to revisit the abuse, write down everything you can remember about your experiences. It may take a while for all the most pertinent details to come back to you, especially if the abuse occurred years ago.
Be patient with yourself, and don't try to get everything down on paper in one day. If you need a little extra support, ask your mental health provider if you can take these notes during one of your sessions.
3. Relying Solely on Your Legal Team for Help
Nearly two decades ago, the Catholic Church implemented an initiative to handle the overwhelming number of claims of clergy sex abuse. Bishops were responsible for ensuring every allegation was given the attention it deserved by reviewing each one with the help of an independent panel.
Unfortunately, a recent AP investigation revealed that these mandatory review boards have been mismanaged. As such, victims are not encouraged to turn to the Catholic Church for help if they were abused by a clergy member.
Instead, let your legal team determine the best way to handle the situation. Your attorney will advocate for you at every stage of the proceedings so church leaders will have no choice but to address your claim.
Call 320-259-5414 to Discuss Your Case with a St. Cloud Personal Injury Attorney
If you or someone you love was abused by a clergy member, contact Bradshaw & Bryant to determine the best way to proceed. Our compassionate team understands the lifelong trauma that comes with suffering sex abuse. Let us help you pursue justice and compensation from the responsible parties. Call 320-259-5414 or fill out our Contact Form to schedule a free consultation with a personal injury lawyer in St. Cloud.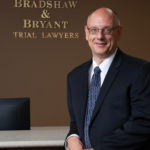 A founding partner with Bradshaw & Bryant, Mike Bryant has always fought to find justice for his clients—knowing that legal troubles, both personal injury and criminal, can be devastating for a family. Voted a Top 40 Personal Injury "Super Lawyer"  multiple years, Mr. Bryant has also been voted one of the Top 100 Minnesota  "Super Lawyers" four times.