Drunk drivers cost the country more than $44 billion in accident-related damages every year. From medical bills and lost productivity to vehicle repairs and replacement services, the resulting expenses add up fast. Thankfully, victims are usually entitled to compensation for the damages they incur.
Holding the impaired motorist financially accountable won't erase what happened, but it could yield the money needed to pick up the pieces in the aftermath. Let's take a look at the kinds of losses that are most often recoverable in the state of Minnesota:
1. Medical Expenses
You can include virtually all the costs associated with treating your injuries in the settlement negotiations. Even with adequate health insurance, you may end up having to cover a significant portion of your medical bills, so make sure to record every out-of-pocket expense diligently.
2. Lost Income
The wages you lose while you're unable to work are recoverable. You can also seek reimbursement for any paid time off (PTO) you've had to use as a result of the accident.
3. The Cost of Domestic Help
While you're recovering, you may need help with child care, housekeeping, meal preparation, and other essential tasks. As long as such services are reasonably necessary, you can account for their cost when determining a fair starting point for the negotiations.
4. Pain and Suffering
The emotional impact of getting hurt in a drunk driving accident can be just as devastating as the actual physical injuries you sustain. Fortunately, Minnesota tort law recognizes as much and allows victims to account for their non-economic damages, like mental anguish and loss of enjoyment in life, when seeking compensation.
It's important to keep in mind, however, that you can only pursue funds for damages you can prove you incurred. As such, car accident lawyers advise all their clients to start journaling as soon as possible after the wreck. A detailed log of the hurdles you face as a result of your condition will inevitably bolster your claim when it comes time to demonstrate the extent of your non-monetary losses.
What About Punitive Damages?
Most personal injury claims, including those involving auto wrecks, don't warrant punitive awards. Payouts are usually only comprised of compensatory damages, which are the kinds listed above.
Minnesota allows for the recovery of punitive damages, however, when the liable party's conduct constituted a reckless disregard for the life, health, or safety of others. Since one can make the case that getting behind the wheel while impaired indicates as much, many drunk driving accident victims are entitled to a punitive award.
Important Evidence in a DUI Accident Claim
Much of the evidence used to strengthen a DUI accident claim is the same that would be used in any other injury case. Medical bills, proof of lost wages, your personal injury journal, photographs of the scene, eyewitness and expert witness deposition, and invoices for reasonably necessary expenses could all help bolster your claim. Because you may be pursuing punitive damages in addition to compensatory damages, your attorney may also use evidence to prove the motorist was in fact driving under the influence when the crash happened. That might include breath and blood test results, deposition from the arresting officer, footage of the scene, receipts from a bar, and social media posts.
Discuss Your Case with a St. Cloud Car Accident Attorney
If you want to take action against an impaired motorist, turn to Bradshaw & Bryant for personalized and attentive guidance every step of the way. We'll use all the resources at our disposal to help you seek the maximum payout possible, including a punitive award if warranted. To set up a free initial consultation with a car accident lawyer in St. Cloud, complete our Contact Form or call 320-259-5414.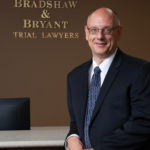 A founding partner with Bradshaw & Bryant, Mike Bryant has always fought to find justice for his clients—knowing that legal troubles, both personal injury and criminal, can be devastating for a family. Voted a Top 40 Personal Injury "Super Lawyer"  multiple years, Mr. Bryant has also been voted one of the Top 100 Minnesota  "Super Lawyers" four times.