Snowmobiling is one of North America's most popular winter sports. It's not without risk, though, and roughly 14,000 people get hurt while doing it every year.
If you happen to be one of them, you may be worried about your financial security. Unanticipated injuries are costly, after all, and it's not uncommon for the associated losses to add up fast.
Thankfully, virtually all the resulting damages are recoverable. As long as you weren't to blame for the accident, you should be able to seek the following losses from those who were:
1. Medical Bills
When building your claim, you can account for all the medical expenses you incur due to the wreck. Examples include ambulance fees, hospital bills, and office copays. You may also recover funds for prescription medication, anticipated procedures, home care, and ongoing rehabilitation like physical therapy.
2. Lost Income
If your injuries keep you out of work, you can pursue funds for the paychecks you end up missing.
In severe cases—typically those involving catastrophic injuries—claimants cannot return to the workforce ever again. Should you find yourself in such a position, you may also seek compensation for lost earning capacity. This encompasses the income you would have made over the rest of your career had you not gotten hurt.
3. The Cost of Reasonably Necessary Replacement Services
If you need help with tasks like meal preparation and housekeeping after the accident, you can include the cost of such services in the settlement negotiations. Just make sure to save all associated receipts and invoices, so you can present them to the opposing party when the time comes.
4. The Cost of Repairing or Replacing Any Damaged Property
If your snowmobile was damaged in the accident, the liable party should cover the cost of repairing or replacing it. The same applies to damaged gear, like navigation devices.
5. Pain and Suffering
Minnesota tort law recognizes the fact that accident victims deserve to be compensated for their non-monetary losses. Examples include pain and suffering, mental anguish, and loss of enjoyment in life. The spouses of injured parties are also entitled to claim loss of consortium.
Since these losses are intangible, however, they're not accompanied by any receipts or invoices. As such, you're going to have to find another way to prove them. Generally speaking, detailed journal entries will suffice.
As long as you're honest about how your injuries are hurting your quality of life, you can submit the entries with your claim. Depending on the circumstances, psychological evaluations and statements from friends, loved ones, and colleagues can also bolster your claim for non-economic damages.
Call 320-259-5414 to Speak with a Snowmobile Accident Attorney in St. Cloud
If you were seriously hurt in a snowmobile accident, turn to Bradshaw & Bryant to enlist help from a strategic legal advocate. We'll guide your claim through every stage of the claims process, so you can focus on your health. Call 320-259-5414 or complete our Online Contact Form to set up a free initial consultation with a snowmobile accident lawyer in St. Cloud.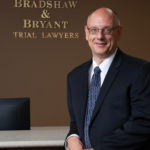 A founding partner with Bradshaw & Bryant, Mike Bryant has always fought to find justice for his clients—knowing that legal troubles, both personal injury and criminal, can be devastating for a family. Voted a Top 40 Personal Injury "Super Lawyer"  multiple years, Mr. Bryant has also been voted one of the Top 100 Minnesota  "Super Lawyers" four times.