If you intend to file a wrongful death claim following the loss of a loved one, it's advisable that you consult an attorney before taking action. Your lawyer not only can help you determine the most strategic way to proceed with your claim but also can help you avoid critical mistakes that might reduce your recovery or prevent you from obtaining any compensation at all.
A seasoned wrongful death attorney will also have access to well-credentialed experts who can assist with the investigation and provide deposition. Below we've listed a few experts who often play an integral role in these cases:
1. Accident Reconstruction Experts
If your loved one died from injuries sustained in a motor-vehicle collision, an accident reconstruction expert can assess photographs and other evidence to discern what happened in the seconds leading up to the crash. Their deposition may help your attorney prove negligence and liability.
2. Medical Specialists
The deposition of medical experts may be needed to prove causation and damages. If, for example, the defense asserts that the death was caused by something else—such as a preexisting medical condition—a medical expert might be deposed to counter this defense. And if there's a dispute regarding the cost of emergency care and other treatment administered, the deposition of a medical expert may help your attorney prove the value of such damages.
3. Vocational Experts
If your family relied on the deceased financially, a vocational expert can analyze his or her career trajectory. Your lawyer may consult with such an expert when approximating the value of lost financial contributions that the deceased would have provided.
4. Economists
An economist can ensure inflation is properly factored into the settlement calculations. Including inflation in the equation is especially important if the deceased was relatively young. If your loved one was only 30 when he or she passed, for example, you may have 35 years of lost wages to account for—and what's considered a reasonable salary today probably won't be in three decades.
How Can a Wrongful Death Attorney Assist with My Case?
In addition to consulting with relevant experts, your legal team can:
• Conduct a thorough investigation into the circumstances surrounding the death to identify all potentially liable parties;
• Track economic damages;
• Quantify non-economic damages;
• Handle all correspondence with the opposing party;
• Negotiate with the insurance adjuster;
• Prepare the case for trial if the opposing party refuses to pay a reasonable settlement; and
• Prevent you from making critical mistakes along the way that might hurt your chances of recovering a fair payout.
Discuss Your Claim with a Wrongful Death Attorney in St. Cloud
If you want to file a wrongful death claim in Minnesota, turn to Bradshaw & Bryant for guidance. We always strive to provide the personal attention, straightforward answers, and tailored legal solutions that accident victims and their families deserve. Call 320-259-5414 or fill out our Contact Form to schedule a free consultation with a wrongful death lawyer in St. Cloud.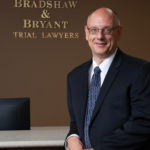 A founding partner with Bradshaw & Bryant, Mike Bryant has always fought to find justice for his clients—knowing that legal troubles, both personal injury and criminal, can be devastating for a family. Voted a Top 40 Personal Injury "Super Lawyer"  multiple years, Mr. Bryant has also been voted one of the Top 100 Minnesota  "Super Lawyers" four times.