If you were hurt on someone else's property through no fault of your own, you may be entitled to compensation for the resulting medical bills and other damages. The smartest step you can take to protect your claim is to enlist the help of a premises liability attorney.
During the initial consultation, your lawyer will listen to your story, evaluate any evidence you have gathered, and help you determine the most strategic way to proceed. To get the most value out of this meeting and ensure your case gets off to a strong start, it's important that you bring along the following documents:
The Incident Report: If you were injured on a commercial property and the manager on duty drafted an incident report, bring it to the initial consultation. This document should contain details about when and where the injury occurred and perhaps identify the cause of the accident.
Photographs of the Scene: If you were able to take photos of the dangerous condition that led to your injury, your attorney will want to see them. Pictures can provide insight into the cause of the accident and may serve as critical evidence if the hazard is repaired by the property owner.
Medical Records: Your attorney will need medical documentation to prove the severity of your injury, tie it to the accident, and calculate a fair settlement amount. Bring along any records you have related to your diagnosis and treatment including doctor's notes, diagnostic images, and prescriptions, as well as any invoices and receipts for medical care.
Eyewitness Statements: If you recorded the contact details or statements from eyewitnesses, bring them to your consultation. Eyewitness testimony might contribute to the strength of your claim if there's a liability dispute.
Your Personal Injury Journal: A personal injury journal can provide insight into how your injuries are affecting your daily life. For the first entry, write down everything you remember about the incident. Then, use the journal to track your recovery.
Correspondence with the Opposing Party: If the liable party or insurance company has reached out to you, save all such correspondence and bring it to your initial consultation. Also, let your attorney handle any future dialogue with the opposing party.
A List of Questions: You can expect to spend much of the consultation answering your attorney's questions, but you'll also get the opportunity to ask questions of your own. Learning about the claims process can greatly reduce any anxiety you feel about the proceedings.
Discuss Your Case with a Premises Liability Lawyer in St. Cloud 
If you were injured on someone else's property and you need help filing a claim, contact Bradshaw & Bryant. Our attorneys are well-versed in the statutes and case law pertaining to these cases. We will use our extensive knowledge, experience, and all the resources at our disposal to provide the best representation possible. Call 320-259-5414 or fill out our Contact Form to schedule a free consultation with a premises liability attorney in St. Cloud.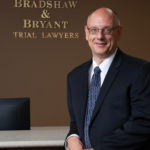 A founding partner with Bradshaw & Bryant, Mike Bryant has always fought to find justice for his clients—knowing that legal troubles, both personal injury and criminal, can be devastating for a family. Voted a Top 40 Personal Injury "Super Lawyer"  multiple years, Mr. Bryant has also been voted one of the Top 100 Minnesota  "Super Lawyers" four times.