If you intend to file a car accident claim or if you've already filed one, there are certain steps you can take to strengthen your case. One such step is to keep a personal injury journal in which you write about your injuries and how they have affected your life and the lives of loved ones. Your attorney can use this journal to demonstrate the severity of the pain and suffering caused by your injuries.
Read on to learn a few elements to include in your personal injury journal:
Your Recollection of Events 
Write down everything you remember about the accident as soon as possible. No detail is too small to include. Recording your account of events immediately will help you recall facts about the crash during your initial consultation with an attorney.
If you gathered any information at the scene, copy it into the journal as well so all pertinent details are in one convenient place. Examples include the names and insurance providers of the other motorists involved and the names and phone numbers of eyewitnesses. 
Your Appointments 
Don't assume your medical records will include detailed accounts of every doctor's appointment. It's ultimately up to you to track each visit, which you can do in your personal injury journal. You should also make a note of every prescription that you fill. 
Your Daily Struggles 
How are the injuries affecting your everyday life? Are you no longer able to participate in the activities you enjoyed before the crash? Have your injuries affected your relationships with loved ones or caused debilitating pain or mental anguish? Keeping an account of your daily struggles may help your attorney prove your non-economic damages.
 What Other Steps Can I Take to Strengthen My Claim? 
Besides keeping a personal injury journal, there are other steps you can take that might strengthen your claim, such as:
Directing all phone calls from the insurance company to your lawyer;
Staying off social media websites while your claim is pending;
Following all instructions from your medical providers; and
Keeping all invoices, receipts, and records of any expenses you incur due to your accident or injury.
Discuss Your Case with a Car Accident Attorney in St. Cloud: Call 320-259-5414 
If you were hurt in a motor-vehicle collision through no fault of your own, contact Bradshaw & Bryant to discuss your case. Our Minnesota personal injury attorneys will assess your situation and help you determine the most strategic way to proceed.
From the moment you call our office to the day your case is resolved, you will be treated with the utmost professionalism and respect. Call 320-259-5414 or fill out our Contact Form to schedule a free case evaluation with a car accident lawyer in St. Cloud. If you are unable to come to us, a member of our team will come to you.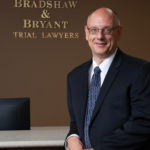 A founding partner with Bradshaw & Bryant, Mike Bryant has always fought to find justice for his clients—knowing that legal troubles, both personal injury and criminal, can be devastating for a family. Voted a Top 40 Personal Injury "Super Lawyer"  multiple years, Mr. Bryant has also been voted one of the Top 100 Minnesota  "Super Lawyers" four times.