Not all personal injury attorneys are equipped to counsel motorcycle accident victims. If you were struck by a reckless driver while riding your motorcycle, you deserve representation from someone who's well-versed in the statutes, precedents, and proceedings that could affect your claim.
In other words, you shouldn't hire just anyone to take your case. Thankfully, you'll know you're in good hands if you find someone who possesses the following:
Integrity 
Lawyers who truly value and respect their clients always practice with honesty and integrity. That means they're transparent about their fee structure, and they never promise to achieve a particular outcome just to secure someone's business. Legal proceedings are, after all, inherently unpredictable.
Look for an attorney who's willing to discuss your case openly and addresses all your concerns in a straightforward way. Fortunately, you should be able to gauge as much during the initial consultation if you simply ask the right questions. 
Accessibility 
You deserve a direct means of contact to your lawyer—or at least the assurance that he or she will get back to you promptly. During your first meeting, ask how long the firm usually takes to respond to inquiries from their clients. If it's more than a day or two, they may not prioritize availability the same way you do. 
A Vast Legal Network 
Before you may seek compensation for all the damages you incur, you must prove liability. As such, you'll want to find an attorney who has the resources to conduct a thorough investigation that yields the evidence needed to proceed.
In addition to filing subpoenas, deposing eyewitnesses, and obtaining official reports, your lawyer may need to consult a number of parties, including accident reconstruction experts, mechanics, vehicle or parts manufacturers, and municipality officials. Therefore, you'll want to inquire about the extent of the firm's professional network before hiring them. 
A Track Record of Success (Including a Relevant Case History) 
While past success doesn't guarantee future wins, it's certainly indicative that the practice has what it takes to secure satisfactory outcomes on behalf of their clients. When vetting firms, ask about their case history, especially regarding accidents like your own.
Have they won payouts for other motorcycle accident victims who were hurt under similar circumstances? And if so, can they modify the strategies they used in the past to help you build a strong case today?
Trial Experience 
Although most motorcycle accident claims are settled, a few cases inevitably go all the way to court. Since there's a chance yours could end up at trial, it's wise to work with an attorney who has litigation experience from day one. 
Discuss Your Case with a Motorcycle Accident Attorney in St. Cloud 
At Bradshaw & Bryant, we understand the devastating toll that serious injuries can take on both accident victims and their loved ones. If you were seriously hurt in a wreck through no fault of your own, we'll represent your best interests with the help of first-rate experts and cutting-edge technology. Call 320-259-5414 or use our Online Contact Form to set up a free consultation with a motorcycle accident lawyer in St. Cloud.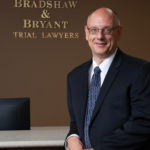 A founding partner with Bradshaw & Bryant, Mike Bryant has always fought to find justice for his clients—knowing that legal troubles, both personal injury and criminal, can be devastating for a family. Voted a Top 40 Personal Injury "Super Lawyer"  multiple years, Mr. Bryant has also been voted one of the Top 100 Minnesota  "Super Lawyers" four times.