When you drop off your children at the bus stop, it's reasonable to assume they will get to school safely. After all, the school bus is one of the safest vehicles on the road—far safer than the typical passenger car. That is, of course, as long as the driver is awake, alert, and sober.
Most bus drivers are carefully vetted and take their duties seriously. The idea that they might attempt to transport children while under the influence of drugs or alcohol seems unfathomable. Since 2015, however, impaired bus drivers endangered the lives of more than 1,600 students.
Drunk driving isn't the only threat that puts child passengers at risk. Inadequate training, poor road conditions, and defective tires are just a few examples of hazards that can cause devastating school bus accidents.
If your children were hurt in a school bus crash, you may be wondering who's to blame. There are a number of parties that could be liable including:
1. The School District
If the bus driver was employed by the school district, the district may be responsible for covering the damages. Because of a legal doctrine called vicarious liability, employers can be deemed liable for their employee's negligence if the employee was acting in the course and scope of their employment.
If this applies to your claim, it's important to remember that suing a government entity poses a few additional hurdles. For example, while Minnesota's standard statute of limitations for personal injury suits arising from negligence is six years, those who want to bring a claim against a government agency must submit formal notice within just 180 days.
2. The Transportation Company
If the school system outsources its bussing to a third party, vicarious liability may still apply, assuming the bus driver was at fault. Instead of suing the district for damages, though, you will have to bring a claim against the transportation company. As long as it's a private organization, the nuances pertaining to tort claims against a government entity would not apply.
3. The Vehicle or Parts Manufacturer
If the wreck was caused by a defective part, the company that manufactured the malfunctioning component may be to blame. Manufacturers have an obligation to produce vehicles and parts that can reasonably withstand the demands of road travel. Should they fail to do so, those who sustain injuries as a result can seek damages.
4. Another Motorist
Although school buses are highly visible in traffic, motorists can—and do—still strike them. If your children were hurt because a drunk, distracted, or otherwise reckless driver struck the bus that was transporting them, you may have to file a third-party claim with the liable driver's personal auto insurer.
Call 320-259-5414 for a Free Consultation with a St. Cloud Bus Accident Attorney
If your children were hurt in a school bus accident, contact Bradshaw & Bryant to determine the most strategic way to proceed. Our resourceful personal injury attorneys will conduct a thorough investigation into the incident to identify all potentially liable parties. Call 320-259-5414 or fill out our Contact Form to schedule a free case evaluation with a bus accident lawyer in St. Cloud.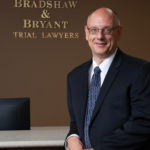 A founding partner with Bradshaw & Bryant, Mike Bryant has always fought to find justice for his clients—knowing that legal troubles, both personal injury and criminal, can be devastating for a family. Voted a Top 40 Personal Injury "Super Lawyer"  multiple years, Mr. Bryant has also been voted one of the Top 100 Minnesota  "Super Lawyers" four times.