Every time you hop on a chairlift, you assume a certain amount of risk. That doesn't mean, however, that those who get hurt in skiing accidents have no legal recourse.
If you sustained serious injuries during a trip to the mountains, you may be entitled to compensation for the associated damages. In order to pursue a payout, though, you'll have to determine who was ultimately to blame for the incident.
When it comes to skiing accidents caused by negligence, there are a few parties that could be responsible. The parties that are often liable include:
Ski Schools 
Ski instructors need to recognize their students' limits so they can avoid placing them in knowingly dangerous situations. If you were hurt during a ski lesson and you think your instructor could've prevented the accident, you may have grounds for a claim against the ski school. This is because employers are typically liable for any damages their employees cause while performing their job duties. 
Other Skiers or Snowboarders 
Everyone on the mountain has an implied duty of care to those on the trails around them. If you were hurt in a collision with another skier or snowboarder despite having the right of way, you may be able to take action against him or her personally.  
The Ski Resort 
If a ski resort fails to maintain their trails and lifts to a reasonable standard, they can be held liable for any accidents that result. For example, if you're hurt because you hit a boulder, slipped on ice, or fell from the chairlift, you might be able to seek compensation from the resort.  
How Can I Prove Liability for My Skiing Accident? 
Once you determine who's to blame for the accident in which you were hurt, you'll have to find a way to prove it. Naturally, the strongest evidence will depend on the circumstances; however, it will likely include some combination of the following:
Eyewitness testimony;
Statements from accident reconstruction experts;
Surveillance footage;
The official incident report;
The ski school's hiring practices and training requirements;
The resort's standard operating procedures; and
The resort's maintenance logs.
When building your claim, it's important to remember that proving liability is just half the battle. You'll also have to demonstrate damages.
In Minnesota, recoverable damages include both monetary losses, like medical expenses and lost income, and non-monetary losses, like mental anguish and pain and suffering. Evidence that will help you prove such damages may include:
Hospital bills;
Medical records;
Paystubs;
Journal entries;
Psychological evaluations; and
Statements from friends, loved ones, and colleagues. 
Call 320-259-5414 for a Free Consultation with a St. Cloud Skiing Accident Attorney
At Bradshaw & Bryant, we understand the devastating toll that unanticipated injuries can take on the whole family. If you were seriously hurt on the mountain because someone failed to act with reasonable care, we'll help you determine the most strategic way to proceed.
By letting us handle the logistics of your case, you can focus on more important matters, like making a full recovery while taking care of your loved ones. Call 320-259-5414 or use our Online Contact Form to set up a free consultation with a skiing accident lawyer in St. Cloud.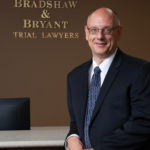 A founding partner with Bradshaw & Bryant, Mike Bryant has always fought to find justice for his clients—knowing that legal troubles, both personal injury and criminal, can be devastating for a family. Voted a Top 40 Personal Injury "Super Lawyer"  multiple years, Mr. Bryant has also been voted one of the Top 100 Minnesota  "Super Lawyers" four times.