When faced with thousands of allegations of sexual abuse by clergy members, the Catholic Church responded by implementing mandatory review boards. While many of those leading the initiative undoubtedly had the best intentions, it appears their efforts were in vain.
Nearly two decades after the Church started establishing these so-called "independent" panels, an investigation conducted by the Associated Press (AP) revealed their apparent ineffectiveness. Instead of evaluating every claim fairly with the help of impartial lay people, some review boards—composed of individuals appointed by bishops—have allegedly been operating in secrecy.
The AP claims such panels routinely undermined sexual abuse claims, helped the Church avoid making reparations, and shielded clergy members who were accused of misconduct. What does this mean for victims?
By no means did the investigation reveal that all the review boards were corrupt; however, the simple fact that the Church rejected multiple complaints that were later substantiated by secular authorities highlights the issue with internal policing. At the end of the day, victims cannot rely on the very organization that hurt them to then turn around and protect them. That doesn't mean those who were sexually abused by clergy members have no recourse, though.
Instead of turning to Church leaders for help achieving justice, survivors can take their case to a personal injury lawyer. You may not have the resources to gather evidence that validates your claim, but you can be sure a resourceful practice will.
An experienced attorney will evaluate the situation from all angles to determine the most strategic way to proceed. Should you have grounds for a claim, your legal team will take action against the diocese—and they'll go all the way to court on your behalf if Church leaders prove uncooperative.
Filing a suit against the Church won't erase the trauma you've suffered, but it could provide the means to put your life back together. If you manage to secure a payout, for example, you could take time off work to focus solely on your mental health. You could then seek counseling from a licensed professional who will teach you how to facilitate the healing process and cope with the horrors you've faced.
When Should I Call a Personal Injury Lawyer?
Generally speaking, it's wise to call an attorney as soon as you realize you were wronged. When it comes to sexual abuse, though, it's not uncommon for victims to wait years—or even decades—to speak out.
If you're unsure which deadline applies to your situation, consult an attorney as soon as you feel ready to discuss the circumstances.
Abuse of children and the continued silence by the offenders needs to be prevented. If you suffered, saw, or suspected such events, it is important to know that there is help out there.
If you or someone you love was sexually abused by a clergy member, contact Bradshaw & Bryant. Our resourceful team will conduct a thorough investigation into the incident and gather the evidence needed to pursue justice. Call  or fill out our Contact Form to schedule a free consultation with a personal injury lawyer.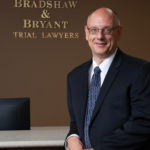 A founding partner with Bradshaw & Bryant, Mike Bryant has always fought to find justice for his clients—knowing that legal troubles, both personal injury and criminal, can be devastating for a family. Voted a Top 40 Personal Injury "Super Lawyer"  multiple years, Mr. Bryant has also been voted one of the Top 100 Minnesota  "Super Lawyers" four times.