As highway death statistics in Minnesota rise there is a greater concern for alcohol related crashes. The safest way to prevent this is to simply not drink and drive. The National Highway Traffic Safety Administration  has provided a number of safety tips that should always be kept in mind:
1) Alcohol's effects change as more drinks are consumed. After a few drinks, inhibitions are lessened, and driving skills and decision-making abilities become impaired — all before symptoms of intoxication become apparent.
2) Alcohol in the digestive system continues to be absorbed into the bloodstream, affecting judgment and coordination for hours after the last drink.
3) Caffeine is a stimulant that can help keep you awake, but it does nothing to remove the alcohol in your system.
4) If your celebration plans include alcohol, make sure you have a ride home with someone you are confident will not be drinking.
5) Women especially should always keep a hand on their drinks, to prevent anything from being slipped into them.
We see the tragedy that results from deaths when drunk drivers are on the road. Make sure you aren't one of them. Here's to a safer and happy 2018.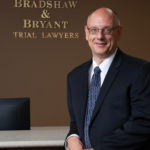 A founding partner with Bradshaw & Bryant, Mike Bryant has always fought to find justice for his clients—knowing that legal troubles, both personal injury and criminal, can be devastating for a family. Voted a Top 40 Personal Injury "Super Lawyer"  multiple years, Mr. Bryant has also been voted one of the Top 100 Minnesota  "Super Lawyers" four times.