An unexpected death in the family is a tragedy that nobody deserves to experience. Sadly, accidental injuries are a leading cause of death in the United States. Motorcycle riders are especially vulnerable to fatal injuries because they have very little protection from impact.
According to the National Highway Traffic Safety Administration, the average age of riders involved in fatal motorcycle collisions in 2015 was 42. That means the average rider who died still had a decade or two until retirement, or plenty of life left to live. It is also safe to assume that most had spouses and children who depended on them.
Although no amount of money can bring accident victims back, securing a wrongful death settlement may help surviving loved ones maintain their standard of living after the loss. Filing a successful claim is challenging, though, and it's natural to have a lot of questions.
Below are the answers to just a few FAQs about wrongful death claims stemming from motorcycle accidents:
What Is the Typical Valuation of a Wrongful Death Claim Resulting from a Motorcycle Accident? 
Since every wrongful death claim is different, it is not possible to assign an average or typical valuation to these cases. The best way to calculate how much your case may be worth is by talking to an attorney. Although a reputable law firm will not promise to achieve a particular outcome, they should be able to add up all economic damages and then calculate a reasonable figure for all non-economic losses so you know what a fair settlement might look like. 
Who Can File a Wrongful Death Claim Following a Motorcycle Accident? 
In Minnesota, the following parties have the right to pursue compensation for the unanticipated loss of a loved one:
The deceased's surviving spouse;
The deceased's surviving children;
The deceased's surviving parents; and
The deceased's surviving siblings. 
Do I Have to Hire a Lawyer to File a Wrongful Death Claim 
Although you can bring a wrongful death claim without the help of an attorney, it is never wise to do so. If you relied on the deceased for financial support, then there's a lot at stake. Your lawyer can make sure your claim includes all potentially recoverable damages—including those you might have overlooked. Your attorney can also ensure the opposing party does not coerce you into accepting an unfair payout.
Of course, long before the negotiations commence, your lawyer can interview witnesses, gather police reports, track funeral expenses, and compile other kinds of evidence of both liability and damages. At the end of the day, hiring a skilled and experienced lawyer will allow your case to proceed in good hands while you focus on your family. 
Call 800-770-7008 to Speak with a Motorcycle Accident Attorney in Minneapolis 
If you lost a loved one in a motorcycle crash, the compassionate wrongful death lawyers at Bradshaw & Bryant can review the circumstances of the wreck to determine who might be liable. Our motorcycle accident attorneys are tenacious and experienced litigators who are respected by insurance companies throughout Minnesota. Call 320-259-5414 or fill out our Contact Form to schedule a free case evaluation with a wrongful death lawyer in Minneapolis.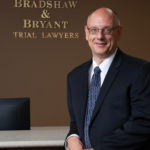 A founding partner with Bradshaw & Bryant, Mike Bryant has always fought to find justice for his clients—knowing that legal troubles, both personal injury and criminal, can be devastating for a family. Voted a Top 40 Personal Injury "Super Lawyer"  multiple years, Mr. Bryant has also been voted one of the Top 100 Minnesota  "Super Lawyers" four times.