After a tragic bicyclist/dump truck collision that took the life of a University of Minnesota student, the city and the University have been looking at ways to make bike riding safer. The idea was to use green lines to denote the bicycle path.
Fox9 took a look at the changes and posted an interesting video about what they found. The three intersections that have been changed will be watched to see if there really is improvement. The key will be educationing drivers to be very aware that there are many bikes in the area.
Our firm has looked at a lot of these cases. A coverage question always comes up with people injured when they aren't in a vehicle. A person will be covered for no fault benefits under their own policy as a resident relative in their home or, if they have no coverage, by the No Fault from the car they were hit by. If there is no coverage on the car, the bills may then go to the assigned claims bureau for coverage.
Beyond No Fault , the question of liability concerning the car's actions and those of the pedestrian/bike rider will need to determined. Early investigation may be necessary to make these determinations.
When crossing the street, Askacop.com makes the following suggestions:
For bike riders:
Always wear a helmet. Bicycle helmets can reduce head injuries by 85 percent.
Use hand signals to indicate which direction you want to turn.
Be aware and alert at all busy intersections. Make yourself known to motorists.
Have reflectors or lights when riding at night.
Pass on the left, and be ready to hit the brakes. Keep a good passing distance.
Be aware and leave room for motorists trying to make right-hand turns.
The paths in Boulder have 15 mph speed limits; follow the speed guidelines.
Don't wear headphones when riding, and yield to traffic when entering roadways.
For all of you in cars
slow down
look out
don't drink and drive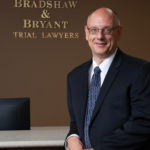 A founding partner with Bradshaw & Bryant, Mike Bryant has always fought to find justice for his clients—knowing that legal troubles, both personal injury and criminal, can be devastating for a family. Voted a Top 40 Personal Injury "Super Lawyer"  multiple years, Mr. Bryant has also been voted one of the Top 100 Minnesota  "Super Lawyers" four times.