Pedestrian deaths in Minnesota jumped dramatically this year, with more deaths in the first nine months than all of last year. The Department of Public Safety today reported there were already 26 deaths through the end of September, eclipsing the 2008 whole-year total of 25.
… this year's spike is unlikely to get Minnesota anywhere close to its all-time totals. Looking at just the past two decades, the state's yearly high is 61 pedestrian deaths in 1991.

The Department of Public Safety is calling for increased driver awareness and asking pedestrians to cross smartly and legally to counter a typically dangerous time of year for pedestrians. In autumn, the department said, there is an increase in foot traffic with school resuming. Also, visibility becomes more challenging for drivers and pedestrians as darkness comes earlier in the evenings. October was 2008's deadliest month for pedestrians with four fatalities.
Officials referenced the upcoming the 2009 Twin Cities Marathon, perhaps the annual peak of pedestrian activity, in the Minnesota Department of Public Safety Press Release. The release also discussed some crucial legal points relating to pedestrians:
Every Corner is a Crosswalk! "Minnesota law states pedestrians must obey traffic control devices, and when no traffic control device is present, motorists must stop for crossing pedestrians within a marked crosswalk or at an intersection with no marked crosswalk."
Where there are signals, pedestrians only have the right-of-way when traffic signals allow.
"Pedestrians must also walk on the left side of the roadway facing oncoming traffic, when possible." This allows pedestrians a chance to react if vehicles swerve off the road.
The reported continued:
DPS is calling for increased motorist awareness of pedestrians and asking pedestrians to cross smartly and legally to combat a typically dangerous time of year for pedestrians. Autumn safety issues include a spike in foot traffic with school in session, as well as visibility challenges as the days become darker earlier. Last year, October was the deadliest month for pedestrian deaths — four were killed.
…

In Minnesota, failing to yield right-of-way to a pedestrian is a misdemeanor and can result in up to 90 days in jail, a $700 fine or both. A jaywalking citation is a petty misdemeanor and can cost up to $95.
Officials also gave some important Safety Tips.
Motorists:

Look for pedestrians
Prepare to stop if a pedestrian is nearing an intersection
Stop for pedestrians within a marked crosswalk – it's the law!
Stop for pedestrians at an intersection with no marked crosswalk — it's the law!
Pedestrians:
Just because you see the car or truck, don't assume they see you!
Wear bright and reflective clothing
Cross only at intersections or crosswalks
Obey traffic signals
Don't enter a crosswalk if a vehicle is too close or going too fast
Hopefully we can cut these tragic statistics and prevent these needless deaths.
People don't think about the tremendous forces when a steel car weighing thousands of pounds strikes a person of flesh and bone. Maybe they should look at what could happen … Don't become a victim, like the poor guy in this video.
http://www.youtube.com/watch?v=9ICQ15Es_Ng&feature=fvsr
I was concerned about offending people with graphic violence, so that was a fairly tame video shot from a distance. If you want to really teach your kids the horrors of car v. people collisions, and you have a strong stomach, show them some of these horrific pedestrian-vehicle videos. Warning: some of them will turn your stomach.
Stay safe!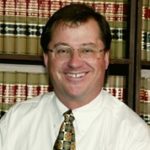 As a partner with Bradshaw & Bryant, Joe Crumley has over 30 years experience helping injured people and their families to secure just and fair compensation. Excelling in personal injury litigation, Mr. Crumley has secured numerous record-setting verdicts and settlements and won accolades such as MTLA's "Trial Lawyer of the Year" and "Excellence" Awards.