In an effort to prevent tragic bicyclist/automobile collisions the city of Edina has added advisory bike lanes. the first city to uses these lanes is Minneapolis. The lanes are :
Marked with a dashed white line and bike symbol, the idea is that cars can drive in the advisory lanes unless a bicyclist is present. Then, they must yield to the cyclist and wait for oncoming traffic to pass before passing the bicyclist.
The Minneapolis Tribune reported on the changes and found that other cities are looking at also making these changes. The lanes are already finding success in Europe. The key will be educating drivers to be very aware that there are many bikes in the area.
Fellow Legal Examiner writer Claude Wyle has been talking about this issue for a long time:
Build Better Bike Lanes to Reduce Congestion and Reduce Bicycle Accidents, Claude Wyle | August 29, 2007 4:47 PM
For no fault insurance purposes, bike riders are treated the same as pedestrians. If they have car insurance they turn to that coverage for their no fault benefits. (Medicals, Mileage, wage loss and replacement services). If they don't have the coverage or don't live with a relative that does, they turn to the involved car or in some cases the assigned claims bureau for coverage.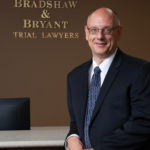 A founding partner with Bradshaw & Bryant, Mike Bryant has always fought to find justice for his clients—knowing that legal troubles, both personal injury and criminal, can be devastating for a family. Voted a Top 40 Personal Injury "Super Lawyer"  multiple years, Mr. Bryant has also been voted one of the Top 100 Minnesota  "Super Lawyers" four times.