This week, there was a guilty plea following the death of a disabled woman at a Wisconsin summer camp. The charges were based upon the woman being given the wrong medication and her being denied medical help.
The woman had been a camper at Trade Lake Camp in Grantsburg, Wis., in July 2008. The camp has provided camping services to the mentally disabled for over forty years. The St Paul Pioneer Press, reported the circumstances as:
A camp employee told investigators that Hjelseth admitted to giving Meade 150 milligrams of the antipsychotic drug clozapine by mistake.

Hjelseth realized her mistake almost immediately but made no attempt to call the camp's nurse or other medical personnel, the complaint states.

After the drug was given to Meade — who was described as "severely mentally challenged" and a ward of the state of Minnesota — Hjelseth believed she would sleep off the medication, authorities said.

Meade fell and hit her head at one point after being given the drug, and was later found foaming at the mouth and having low blood pressure, labored breathing and an apparent lack of circulation. Hjelseth rejected a staff member's suggestion that they seek medical attention for Meade, according to the complaint.

Hjelseth was reported to have been afraid that the camp would be shut down if Meade were taken to a hospital. Weeks earlier, Keith Kennedy, an autistic man from Shoreview, wandered away from the camp and was lost for a week. He was later found alive. But a state inspection of the camp after that incident found a handful of minor violations, including problems with the filing of medication records. The camp's license was not revoked, and the proper paperwork was filed the next day.
Choosing a camp for a family member can be tough. For family members of those who are disabled, the concern has to be heightened. E.how recently published an interesting list of where to start: issues to consider.
The plea will hopefully provide the woman's family with some sense of justice. Sympathy goes out to them on their loss.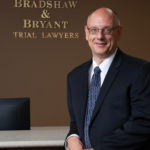 A founding partner with Bradshaw & Bryant, Mike Bryant has always fought to find justice for his clients—knowing that legal troubles, both personal injury and criminal, can be devastating for a family. Voted a Top 40 Personal Injury "Super Lawyer"  multiple years, Mr. Bryant has also been voted one of the Top 100 Minnesota  "Super Lawyers" four times.