Those numbers are scary when you look around when you are on the road. I guess if you are one of them maybe it is a little easier, but still that is a lot of people. Minnesota Department of Public Safety (DPS) had a number of interesting findings:
Between 2007 and 2011, 651 people were killed in drunken driving crashes, which equated to an average of 130 deaths annually and during that time period 166,962 motorists were arrested for DWI.

In the state, there were about 81 DWI arrests per day with greater Minnesota accounting for half of all arrests. In 2011, 29,257 Minnesotans were arrested for DWI. Historically, about 85 percent of DWI arrests result in a conviction each year.

The majority, 73 percent, of all DWIs were male drivers.

It's not all youthful indiscretion as drivers between 20-29 years of age accounted for 42 percent of DWI arrests. One in 15 of arrests were for people younger than 21.

A majority of violators, at 59 percent, were first-time offenders.

The average alcohol concentration among first-time offenders was 0.148, for repeat offenders the level was 0.166. The legal limit is .08.

The top five counties for the highest DWI conviction rates were Red Lake, Lyon, Wilkin, Hubbard and Polk.

In Minnesota counties last year, there were 796 severe injuries in vehicle crashes, 120 unbelted vehicle occupant fatalities and 231 unbelted occupants suffered severe injuries. The total estimated economic impact of the deaths and severe injuries was $437,193,200.
Drunk driving is seeing a reduction, with a 40% drop as compared to 10 years ago. Unfortunately, there are still too many deaths and injuries that are tied to the driving. These kinds of statistics are good reminders that more needs to be done.
The numbers suggest improvement and that law enforcement and maybe the legislature could go even further. It may require another look at the joint and several laws. When the law was revised, bars were granted reduced liability when they serve a drunk and the drunk causes a tragedy. Let's see if even more can be done to make things safer.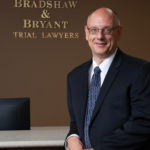 A founding partner with Bradshaw & Bryant, Mike Bryant has always fought to find justice for his clients—knowing that legal troubles, both personal injury and criminal, can be devastating for a family. Voted a Top 40 Personal Injury "Super Lawyer"  multiple years, Mr. Bryant has also been voted one of the Top 100 Minnesota  "Super Lawyers" four times.