As always, I am constantly reading other blogs. Here are a group I found worth passing along on safety issues:
– MPR took a very interesting look at Minnesota deaths since 1976 from people going out on thin ice. The comprehensive report looked at where and when each of the deaths took place.
– Do insurance companies and business defendants delay claims? Take Back Justice explains why in asbestos cases the delay is intended to wait until the plaintiff dies. How they want to lesson or eliminate their liability by putting up every defense they can.
– The Intoxbox is being used by bars to test patrons BAC before they head out the door. The hope is that it will notify them and those with them that it is time to be safe and find another way home. Seems to me that better training and the prohibition to serving drunks would help also and keep the bar out of trouble.
– My favorite site for foot injury blogs, Minnesota Ankle & Foot Blog (The official blog of Dr. Lance Silverman) , has advice on what are the 10 must haves after foot surgery.
– The Austin Personal Injury Blog took a look at children who suffer brain injuries and how they happen.
There is some great information here.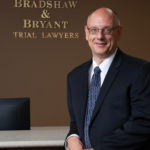 A founding partner with Bradshaw & Bryant, Mike Bryant has always fought to find justice for his clients—knowing that legal troubles, both personal injury and criminal, can be devastating for a family. Voted a Top 40 Personal Injury "Super Lawyer"  multiple years, Mr. Bryant has also been voted one of the Top 100 Minnesota  "Super Lawyers" four times.