August 23rd, Anousone Phanthavong was killed when a Mercedes SUV hit him on a I-94 off ramp. It was disclosed later that the vehicle was owned by former Viking and local restaurant owner Joe Senser. His wife turned herself in as the driver.
Early information disclosed who Mr. Phanthavong was and how most recently he had cooked for Bono when U2 was in town. A real person who will be missed. The lawyers for the family quickly put the case into suit and held a press conference to discuss the case. Knowing them, the publicity is something that they will use to do the best job possible for the family.
The case does raise a number of interesting legal issues:
– The defense was quick to point out that because of Mrs. Senser being charged with a felony that the prosecutor would have to show intent. Her lawyer explained: "You basically have to know you committed a crime," Nelson said. "If you don't know you committed a crime, what obligation do you have to report it?"
– This may be another example of the gap in the criminal law that I've talked about in the past. Often in these types of deaths, the prosecutor only has two choices: the felony or a misdemeanor. As I pointed out before:
I know that there are many families of motorcycle riders who have been killed on the highways who will always believe that justice was not served in the loss of their loved one. It's a hot topic each year as their groups head to the capitol. Hopefully, with a renewed interest by more groups, we will see this change happen.
– Finally, was this a simple mistake or was a person fleeing the scene due to other issues such as drinking and driving? It is not unusual to see drivers go to great lengths to stay out of prison after killing someone while drinking and driving. The key will be a thorough investigation into every minute where the driver was that day before killing this innocent bystander.
Public cases like this can often play a very big role in how the law develops. Not so much because they are more important, but they often get the public engaged in looking at all of the issues.
Our thoughts and prayers go out to all the family and friends who were affected by this horrible incident. Hopefully, justice will be done for all of those involved.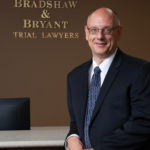 A founding partner with Bradshaw & Bryant, Mike Bryant has always fought to find justice for his clients—knowing that legal troubles, both personal injury and criminal, can be devastating for a family. Voted a Top 40 Personal Injury "Super Lawyer"  multiple years, Mr. Bryant has also been voted one of the Top 100 Minnesota  "Super Lawyers" four times.