Sponsored annually by the Department of Public Safety Division of Homeland Security and Emergency Management (HSEM), last week was Winter Awareness Week. Each day was devoted to a different topic concerning winter safety. To help with the effort, cities across the state are holding forums, providing daily winter safety tips and publicizing the effort in local newspapers and on city websites.
The week is broken down as:
Day 1 Surviving Winter Weather
Day 2 Outdoor Safety
Day 3 Fire Safety
Day 4 Indoor Air Issues
CO is most likely to accumulate inside homes during the winter months —
Make sure your heating system and all fuel burning appliances are adequately vented and properly maintained.
Make sure your furnace has an adequate air intake.
Provide adequate ventilation when using fireplaces, wood stoves, or space heaters.
Don't use gasoline engines or burn charcoal in enclosed spaces.
Don't use gas stoves or ovens to heat living areas.
Rely on a qualified technician to install furnaces and other fuel-burning appliances.
Do a furnace check and check all fuel-burning appliances in the fall.
Identifying the reason behind the week the HSEM press release identified the issues:
Over the last 10 years, more than 50 people drowned after falling through thin ice, and 65 percent of ice drownings were vehicle related. Last winter, 22 people died in snowmobile accidents; half those fatal events involved alcohol or drug use. And during 2005–2007 in Minnesota, officers reported snow or icy road conditions in nearly 41,000 crashes that resulted in 159 deaths and 13,000 injuries. Clearly, people are being "surprised" by weather conditions."
The plan is, no matter how harsh the winter, to make sure everyone is safe and alive at the end of it.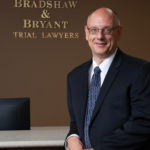 A founding partner with Bradshaw & Bryant, Mike Bryant has always fought to find justice for his clients—knowing that legal troubles, both personal injury and criminal, can be devastating for a family. Voted a Top 40 Personal Injury "Super Lawyer"  multiple years, Mr. Bryant has also been voted one of the Top 100 Minnesota  "Super Lawyers" four times.