Sponsored annually by the Department of Public Safety Division of Homeland Security and Emergency Management (HSEM), last week was Winter Awareness Week. Each day was devoted to a different topic concerning winter safety. To help with the effort, cities across the state are holding forums, providing daily winter safety tips and publicizing the effort in local newspapers and on city websites.
The week is broken down as:
Day 1 Surviving Winter Weather
Day 2 Outdoor Safety
Day 3 Fire Safety
Residential fires accounted for 87 percent of all fire deaths in 2001. The most dangerous place to be, in regards to fire, is in your own home. In 2001, careless smoking was the leading cause of fire fatalities in Minnesota, with 10 civilian deaths (21 percent). As of August 1, 1993, smoke detectors are required in every Minnesota dwelling that has a sleeping area.
During the home heating season, your home can be a cozy, warm place to spend the winter, but it can become a nightmare if you don't "Watch What You Heat!"
Safety around heating equipment and appliances is an important first step in reducing the number of fires that occur annually. Keep children and loose clothing at a safe distance.
Use a yard stick to measure the distance between anything that can burn and your home heating equipment. If you don't have at least three feet of clearance, you are at risk.
Always turn off portable heating appliances when leaving home or retiring for the evening. Be sure the fire in the fireplace is out before going to bed.
Have chimneys, fireplaces and other heating devices inspected by a qualified professional at the start of every heating season.
Use a sturdy screen or glass closure in front of your fireplace, and burn only clean fireplace wood. Never burn treated lumber.
Install smoke detectors on every level of your home, including the basement, and test them monthly.
If you smell gas in your home, contact your local utility company or qualified professional heating contractor immediately, and follow their advice.
Install a residential fire sprinkler system in your home.
Inspect heat tape before using. Never thaw frozen pipes with an open flame.
Identifying the reason behind the week the HSEM press release identified the issues:
Over the last 10 years, more than 50 people drowned after falling through thin ice, and 65 percent of ice drownings were vehicle related. Last winter, 22 people died in snowmobile accidents; half those fatal events involved alcohol or drug use. And during 2005–2007 in Minnesota, officers reported snow or icy road conditions in nearly 41,000 crashes that resulted in 159 deaths and 13,000 injuries. Clearly, people are being "surprised" by weather conditions."
The plan is, no matter how harsh the winter, to make sure everyone is safe and alive at the end of it.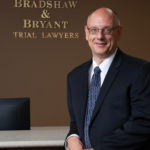 A founding partner with Bradshaw & Bryant, Mike Bryant has always fought to find justice for his clients—knowing that legal troubles, both personal injury and criminal, can be devastating for a family. Voted a Top 40 Personal Injury "Super Lawyer"  multiple years, Mr. Bryant has also been voted one of the Top 100 Minnesota  "Super Lawyers" four times.