The hundred bicyclists showed up for the Saturday memorial to honor the recently killed bike riders in the twin cities. As part of the route, they rode by the location of each death. As a longer reminder a "ghost bike" memorial — a bicycle painted white –was placed in remembrance of those who were killed.
It is hoped that this occasion will remind people of the need to watch out for riders and for riders to remember that they share the road with dangerous vehicles. The ride covered 13.6 miles and was attended by relatives of each of the riders that had dies.
With gas prices putting more riders onto the roads. There are a number of things to keep in mind:
AVOIDING BIKE-VEHICLE CRASHES

Cyclists and drivers:

• Reduce distractions and watch for bikes or cars.

• Follow all stop signs and traffic signals.

Drivers:

• Give cyclists the entire lane if there's not enough room for a bike and vehicle.

• Give bikes 3 feet of clearance when passing.

• Look ahead and behind for cyclists when turning.

• Yield to bikes on sidewalks and halt before crosswalks.

Cyclists:

• Ride just right of center in a lane rather than along curbs

• Stay away from doors of parked cars.

• Bike with the flow of traffic unless there's a contra-flow bike lane.

• Use hand signals for turns and switching lanes.

• Wear helmets and use lights and reflective gear at night.

Source: City of Minneapolis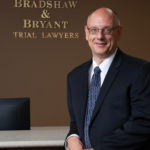 A founding partner with Bradshaw & Bryant, Mike Bryant has always fought to find justice for his clients—knowing that legal troubles, both personal injury and criminal, can be devastating for a family. Voted a Top 40 Personal Injury "Super Lawyer"  multiple years, Mr. Bryant has also been voted one of the Top 100 Minnesota  "Super Lawyers" four times.