Thursday afternoon, a hit and run driver was arrested by the Todd County Sheriff. The pick up driver had hit a 71 year-old man and left the scene. Witnesses were able to describe the truck and spotted one matching the description in a driveway. The pedestrian was injured and taken to Long Prairie Memorial Hospital.
Often when the drivers are tracked down, it is determined that the driver was drunk, high or driving with no insurance. If you or a family member is ever involved with a hit and run driver, it is imperative that the police be contacted right away and they be told everything so that an investigation can be successful. All witnesses need to be spoken to and all evidence will need to be preserved.
This is also the time when you learn how good your own insurance coverage is. Your No Fault PIP coverage will be needed to cover your medical bills, wage loss, medical mileage and replacement services. If you have more than one car on your policy, hopefully you have stacked coverage which multiplies your minimum limits by your cars. The other coverage that will come in to play is your Uninsured motorist coverage. This is the coverage that you have to protect you when the other car has no coverage or is nowhere to be found. As I pointed out previously and other members has advised, this may be a vital coverage as more people are forgoing insurance coverage in tough economic times.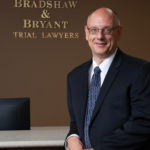 A founding partner with Bradshaw & Bryant, Mike Bryant has always fought to find justice for his clients—knowing that legal troubles, both personal injury and criminal, can be devastating for a family. Voted a Top 40 Personal Injury "Super Lawyer"  multiple years, Mr. Bryant has also been voted one of the Top 100 Minnesota  "Super Lawyers" four times.