It seems like that is the answer that the Insurance Federation has for everything. Do the rates ever go down in Minnesota? There are reports that there are less deaths on the roads. Do they come forward and say , hey we saved money? There are less drinking deaths. Did they have an "everyone saves" press conference? The roads are safer. Did you see a money saving in your premium?
Nope, it's because they are full of it. The most recent example was after the Minnesota Supreme Court release the case of Latterall vs. Progressive, which stated clearly that a UIM work exclusion was prohibited under the law. It was my case, and despite knowing that at the heart of the case was a young man's death, I was proud to know that I helped all Minnesota Consumers.
The response from the Insurance Federation:
The Supreme Court decision "changes the exposure to the pool of personal auto drivers and brings in risk that is not there now," said Bob Johnson, president of the Insurance Federation of Minnesota. The more risk, the higher the premiums. The decision could result in higher premium costs for personal auto insurance holders, he said, and invite challenges on any number of coverage exclusions that are not now written into law.
I hope he's right, that Minnesota Consumers start getting what they paid for and what the No Fault law intended. Exclusions that are outside the law are insurance companies ripping off the consumer. If the companies need to balance their books on illegal exclusions, there is something wrong and it's not with the courts.
Reading the wolf cry of the Federation reminded me of a story from 2005 and the Insurance Journal. This time the Federation was again crying about costs:
Minnesota is one of the few remaining states that has no-fault auto insurance. Like most other no-fault states, our system is broken. Our mission at the Insurance Federation of Minnesota this year was to teach lawmakers that our state's current no-fault system needs fixing … fast.

Our auto insurance rates are the 16th-most expensive in the country and are climbing. Our neighboring states, Wisconsin, Iowa, South Dakota and North Dakota are 42nd, 49th, 50th and 51st respectively (D.C. counts as a state in this ranking). If we don't fix our system soon, we're going to be in the top 10.
How did that prediction work out?
4/9/10 Insure.com: 29 Minnesota $1,381.09
3/14/11 Daily Finance: 22 Minnesota, $1,614
In 05 they went on to say the No Fault system was
… a good deal for chiropractors and trial lawyers, it is a very bad deal for consumers.
They were wrong then and they are wrong now. There is a good system in Minnesota that works. It is time that their lies be called out and they stop getting any attention whatsoever. They value profits over people. Thankfully , our system doesn't.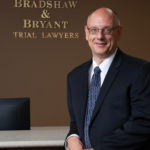 A founding partner with Bradshaw & Bryant, Mike Bryant has always fought to find justice for his clients—knowing that legal troubles, both personal injury and criminal, can be devastating for a family. Voted a Top 40 Personal Injury "Super Lawyer"  multiple years, Mr. Bryant has also been voted one of the Top 100 Minnesota  "Super Lawyers" four times.