This past month at the Minneapolis Blog we looked at all the ways that you don't buy the right insurance. Many of them no one would know about unless they have been through the policy or they have been unfortunate enough to find out that they didn't have the coverage. The problem is that you can't count on your agent to get the correct coverage. It is amazing to talk to an agent and find out that they had no idea what some of what they were selling did. To say nothing about what happens when you buy your coverage over the internet and have no one to deal with.
– If you are insuring a motorcycle, make sure that the underinsured coverages isn't the difference of the limits. This is coverage that subtracts the amount that the defendant has from the amount you are buying. So if you buy 30,000 UIM , you really have bought nothing. Because the defendant is going to have the minimum coverage or the case would be an Uninsured motorist case.
– If you deliver items for work in your car, check to see if there is an exclusion for coverage if you do that type of activity. It is very possible that company will claim that you don't have even the minimum coverages that you paid for.
– Make sure there isn't an exclusion that changes the policy for family members. There are a couple of policies out there that reduce the Underinsured or Uninsured coverage if it is used for a family member. Can you imagine the parent that would buy a policy that would provide more protection for the neighbor kid than for a child of their own? How about the agent that claims they explained that provision?
– Do you have a deductible in your no fault? There are policies that don't pay the first $100 or $500 dollars of your medical or your wage loss. Personally, I don't understand how those policies pass legal muster, but since they still agree to pay 20,000 in overall medical or wage loss, they have so far been allowed to stand.
– Is there a dependable way to pay for your policy? We over time have seen all sorts of schemes set up by agents or late payments agreements, that worked well until a claim was made. Sure they will take your money and even back date the timing, as long as they aren't expected to pay out.
– Is your coverage provided by a bank as part of a car loan? If that the is case, it most likely isn't anything other then property coverage for the loan and not even legal coverage for you if you were stopped. It breaks your heart when a hurt person comes in and hands you one of these policies that were added to their loan at an exorbitant rate.
– Is the coverage really your coverage? Many times we have seen schemes set up by friendly agents where the out of the house kids are insured or an undisclosed driver is the one really insured, but the agent just signed up the business. When the person makes a claim, they are hit with claims of fraud. So make sure what you are doing won't be used against you later.
– What do your definitions say and do they make sense? It used to be that the courts and the insurance commissioner was an ally for the consumer. Unfortunately, not much gets done when we find a definition like "relative" that is rewritten to exclude real relatives. Did you know there are policies that define relatives as people in your house who don't have insurance coverage? So that insured brother really isn't your relative in that insurance company's world.
– When you look at your coverages, make sure that your needs are taken care of. If you are a senior citizen who doesn't have a job, you can get wage loss dropped from your coverage. But, if you have a high wage, you might want to look into more coverage from wage loss.
Insurance is about protecting yourself and your family. It's a mandatory coverage so you might as well get what protects you the most. We too often learn of these problems after the fact. But, if you ever have questions, leave a comment, email, or call. We are willing to share our experience so you don't learn the hard way.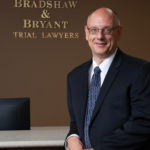 A founding partner with Bradshaw & Bryant, Mike Bryant has always fought to find justice for his clients—knowing that legal troubles, both personal injury and criminal, can be devastating for a family. Voted a Top 40 Personal Injury "Super Lawyer"  multiple years, Mr. Bryant has also been voted one of the Top 100 Minnesota  "Super Lawyers" four times.