We've had billboards for years. The oldest one was one that John Bradshaw negotiated on I-94 back in the early 80's. At times, we have discussed the problems with having a phone number out on the roads. We don't want people to call while they are driving. Not that long ago, the website was added, and again that isn't something to use on the road.
Recently, the discussion has come up with digital billboards. A couple of the rotating ones have popped up in the St Cloud area. The have been looked at as great money makers for the billboard companies because they can sell multiple ads. There has also been the public service use with Amber alerts, criminals to be concerned about, and even the news. It clearly is asking people to read more information.
The question has arisen of : Is this too much of an additional distraction? They have been called "televisions on a stick" by the critics. "You can turn off your phone," Abby Dart, executive director of Scenic Michigan said. "The billboard gets your attention whether you want to give it or not."
The Minnesota legislature is looking at having hearings on the signs. There have been a couple of studies to suggest that there is no problem, but the studies were commissioned by the billboard companies. 2,000 of the 450,000 billboards in the United States are digital, but the number continues to grow. It is definitely an issue to continue to keep an eye on.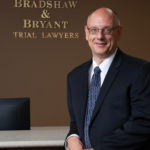 A founding partner with Bradshaw & Bryant, Mike Bryant has always fought to find justice for his clients—knowing that legal troubles, both personal injury and criminal, can be devastating for a family. Voted a Top 40 Personal Injury "Super Lawyer"  multiple years, Mr. Bryant has also been voted one of the Top 100 Minnesota  "Super Lawyers" four times.