Minnesota's new booster seat law brings a whole new group of older kids into booster seats. The new law has been in force since July 1, and folks are asking questions.
Does my Teenager Need a Booster Seat??? The law only applies to children both under age 8 and under 4 feet 9 inches. So unless your 7 year old is that tall, the child MUST BE in a booster seat. (By the way, if your 7 year old is 4 foot 9, call me… I'd like to negotiate a pro basketball contract.)
But is it safe enough to merely follow the law? Safety Experts suggest you can do more. Any child under the age of 13 should always be in the backseat. Proponents of the Minnesota law also suggest that any child who is over 8 but still under 4 feet 9 inches remain in a booster seat. Although it may be difficult, you should base your decision to get rid of the booster seat on the child's height and not their age. Any parent or caregive must review this comprehensive guide to Child Safety Seats from the American Academy of Pediatrics (AAP).
It's not illegal to let your petite twelve-year-old ride without a booster, but you may be risking your child's life. Use your common sense and your observations of your own child to determine when your child is tall enough to ride in a car without a booster seat and have seatbelt fit properly.
What if I Get a Ticket? The law does have an escape clause: The $50 fine may be reduced or waived if you can prove that you obtained an appropriate car seat or booster seat "within 14 days after the date of the violation." That's no reason to delay getting a seat, though.
What if I'm Driving Other People's Kids? This could be a problem. You need boosters for all of them. Common sense and preparation should simplify this problems. If you're driving the baseball or soccer team, ask their parents to have the kid ready at the door, booster seat in hand (and with a parent to help install it correctly the first time). Booster seats should become just another sports accessory, like water bottles and shin pads.
What about Babies? Babies should be placed in a rear-facing safety seat until at least age 1 and at least 20 pounds in weight. The AAP even advises that it is best for baby to "ride rear-facing to the highest weight or height allowed by the manufacturer of her car safety seat." Either way, the child ought to be in the center position of the back seat away from any possible impact.
Why the Changes? Some people have been wondering why these changes have been made. Many parents believe that a seatbelt is enough. However, over the past twenty years, we have learned that seatbelts may actually cause more harm than good for a small child. This is because seatbelts were not designed to fit children and because children are so much shorter and lighter than adults, seatbelts improperly fitted on a child can sit across their necks or ride up too high on their laps which can cause serious injury in a crash. A booster seat or car seat will elevate a child the few inches needed to ensure that the seatbelt fits properly or it will have a guiding system on it so that the seatbelt is situated in the proper position on the child's body.
Can I Get Help With the Cost? For people who are concerned about the cost of booster seats, there are organizations to help parents get affordable booster seats. Organizations like the American Automobile Association (AAA) can also help parents track down financial help and provide advice on where to buy.
How Do These Darn Things Work? It is crucial that the booster seat fits your child properly and that you have it installed in your car properly. Some experts estimate that 4 out of every 5 children are placed in safety devices or restraints improperly. The doctors at the American Academy of Pediatricians provide comprehensive guidelines, as does the AAA and this website: http://www.carseatsmadesimple.org/. Most fire stations will also offer assistance to parents or caregivers who need help with car restraints so do not be afraid to ask.
My partner Mike Bryant wrote about this law when it was first passed. For more information, check out the latest news about the law.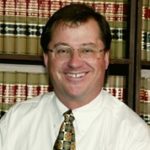 As a partner with Bradshaw & Bryant, Joe Crumley has over 30 years experience helping injured people and their families to secure just and fair compensation. Excelling in personal injury litigation, Mr. Crumley has secured numerous record-setting verdicts and settlements and won accolades such as MTLA's "Trial Lawyer of the Year" and "Excellence" Awards.