For some time insurance companies have used adverse doctors to deny benefits. Usually through policy requirements or court orders, injured parties are sent to these doctors and told that they are not hurt, their injury is from something else or it's all made up. Some doctors use Waddel's tests or findings to try to justify their conclusions.
This is not only a miss use of these tests but contrary to Dr Waddell's own articles. In 1998, Dr Waddell wrote that the Waddell behavioral signs are not on their own a test of credibility. That they should be used to suggest that there may be other medical disciplines that the person should be looking to. At that time he made clear that:
That it can not be assumed without further evidence that the behavioral signs are de facto to be viewed with suspicion.
Over-interpretation of individual signs is common.
Assessment of behavioral signs is not a complete psychological assessment.
Clear evidence of behavioral responses indicates that the patient does not have a straight forward physical problem, he or she may require an orthopedic intervention. In such cases, pain management as well as surgery may be necessary.
An important significant minority of patients become chronically incapacitated after injury, regardless of whether litigation is involved.
The most serious misuse and misinterpretation of behavioral signs has occurred in medicolegal context and that they do not represent a comprehensive psychological evaluation and formulations such as "functional overlay", should not be taken as definitive.
That the signs should only be described as "behavioral responses to examination" and should be understood as such.
That the signs are a form of communication between the patient and doctor and are therefore influenced by expectations (both by the patient and the doctor).
The signs are not a reason to deny appropriate physical treatment. Some patients may require both physical management and physical pathology and more careful management of psycho social behavioral aspects of their illness.
The behavioral signs are not on their own a test of credibility.
It's important that patents understand that these findings are not a truth test. That attorneys in this area understand that there are many ways to attack these questionable examination finds. For additional information review my article
MY CASE JUST GOT WADDELLED!, OR DID IT?
Is it possible that the adverse got it wrong?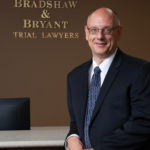 A founding partner with Bradshaw & Bryant, Mike Bryant has always fought to find justice for his clients—knowing that legal troubles, both personal injury and criminal, can be devastating for a family. Voted a Top 40 Personal Injury "Super Lawyer"  multiple years, Mr. Bryant has also been voted one of the Top 100 Minnesota  "Super Lawyers" four times.