E-Bay officials pulled the auction of the infamous DWI La-Z-Boy, aparently after the LaZ-Boy company claimed a trademark violation.
Proctor police chief Walter Wobig got a fax Monday morning from a La-Z-Boy representative, and had what he called a "congenial" phone conversation later. He thought the issue was done, but later in the day noticed the auction had been pulled just 11 hours short of ending.
The [LaZ-Boy] representative told the chief to just make sure the eventual buyer doesn't continue referring to it as a La-Z-Boy chair. "And good luck with the sale," he said, according to Wobig.

But all went afoul by nightfall when the chief noticed the chair auction was off the website. Earlier in the day, Wobig said he tried to e-mail and call the folks at eBay but said there was no way to do that.

All he can do now is repost the listing without the trademark name, begin the bidding at $500 once again and hope bidders will drive the price to former heights.

An autographed photo of the former owner, Dennis Anderson, sitting in his chair, fetched $710 on eBay. Anderson's family and friends said the money will be used to help pay legal fines and legal fees after he crashed his recliner into a parked car while driving drunk.
Wobig is a little tired of the whole thing:
Hoping that bidding will begin again today, Wobig said he'll end the auction after three days instead of the original five. He has fielded calls, letters and e-mails from some who love the auction idea and others who "want to string us up for taking the man's chair away."

"In the past four days I've done nothing but dealt with this thing," he said. "I can't go through that again."
The chair is agian up for auction, but the bids have not yet approached the $45,000 that was achieved on the first auction.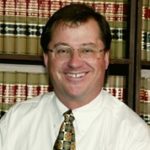 As a partner with Bradshaw & Bryant, Joe Crumley has over 20 years experience with the firm—helping injured people and their families to secure just and fair compensation. Excelling in personal injury litigation, Mr. Crumley has secured numerous record-setting verdicts and settlements and won accolades such as MTLA's "Trial Lawyer of the Year" and "Excellence" Awards.