Getting your car damage paid after a car wreck can be a real pain. Your car is destroyed, and you need a new one. Or maybe you just some damage repaired.
Insurance companies don't always agree about the value of your car, or who caused the crash. Sometimes there's no insurance at all. These articles will address a few problems and suggestions for dealing with property damage claim problems.
Admitted liability. If the other driver is insured, and the insurance company admits 100% fault, that company is your best bet. Submitting to the at-fault insurer has several advantages:
· You have no deductible – 100% recovery
· Replacement vehicle payment
· Personal property payment (for those broken golf clubs)
· Rental car payment
Disputes. What happens when the insurance company does not admit 100% fault, or says your car ws worth less than you think? Minnesota law does require the insurer to make a "good faith assignment of comparative fault" the issue is not always easily resolved. Too many insurers adhere to the illegal and false myth that "any driver gets 10% for being there," but what can you do?
You could sue the other guy in small claims court (conciliation court), but that's probably a bad idea if you're injured. I'll explain why in the next installment
Spouse or co-owner can go to court. If there is a spouse or other co-owner that was not injured in the car accident, they can safely bring the conciliation court property damage action in their own name. As long as they are listed as an owner of the vehicle, they certainly have standing to bring the claim. And it should not interfere with the injury claim.
Your Own Insurance? I you have so-called "full coverage", including collision and comprehensive coverage, with a relatively low deductible, that may be a better choice when the other guy's insurance is making a lowball offer. You do have to pay your deductible, but then your insurer will try to get all the money back from the other driver's insurance…. and they have to pay you back a fair percentage of your deductible.
What happens, though, when your client's own company makes a low ball offer on the property damage? Again, the Fair Claims Act requires the insurer to make a fair offer, but reasonable minds sometimes disagree on what's reasonable.
Many lawyers are unaware that their familiar and well-used remedy of No-Fault Arbitration actually includes first party collision and comprehensive disputes. The rules are the same; in fact, they are literally the same set of rules. Your lawyer can simply take the form out of the desk, assemble the proof, and arbitrate that claim!
Worst case scenario. Finally, if you have no collision coverage, the other driver has no insurance, or the insurer is low-balling the property damage offer, the injured person may have to wait. For example when the car is drivable, you may be best served by waiting until the liability case is tried or settled. If settled, when you've gotten their best offer on the injuries, then you can go to Conciliation court.
Sadly, if the car needs to be repaired, you will be on the hook until the PI case is ready to settle.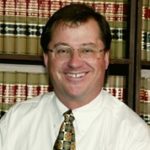 As a partner with Bradshaw & Bryant, Joe Crumley has over 20 years experience with the firm—helping injured people and their families to secure just and fair compensation. Excelling in personal injury litigation, Mr. Crumley has secured numerous record-setting verdicts and settlements and won accolades such as MTLA's "Trial Lawyer of the Year" and "Excellence" Awards.