The continued budget issues and the heavy snow may be leading to bigger problems for Minnesota roads. One of the responses was especially concerning for all drivers:
Mike Kennedy, the Minneapolis longtime street maintenance and repair director, said that primary snow removal is proceeding as usual despite the cuts but that some secondary post-snow emergency clearing will be delayed, or may not happen.

—————————————-

The city's revamping of snow removal involves cutting costs by reducing its full-time staff of drivers, heavy equipment operators and laborers from 134 workers to 80, then setting up a force of reserve workers for snow emergencies and calling in qualified drivers from the city's public works roster to plow. The city also is renting less removal equipment.
There's been all sorts of discussion that cuts to local governments (aid to the cities has been cut twice) have lead to reduced municipal and county jobs. Less police, fireman, road workers, and plow drivers. All of these are vital losses for Minnesotan drivers.
It's clear that the money has got to come from somewhere, but when the Governor comes to the table with his hands already tied by old campaign promises, there really is no real negotiation. Minnesota has always been great at clearing the roads, in part because of a lot of practice, but also because it's important. It's one thing to read about southern states shutting down with a inch of snow, we simply can't have that happen here.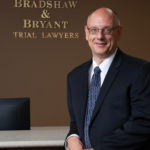 A founding partner with Bradshaw & Bryant, Mike Bryant has always fought to find justice for his clients—knowing that legal troubles, both personal injury and criminal, can be devastating for a family. Voted a Top 40 Personal Injury "Super Lawyer"  multiple years, Mr. Bryant has also been voted one of the Top 100 Minnesota  "Super Lawyers" four times.