I always try to start any meeting with an early question about what questions the client has. Why? Well, because a person who is coming to us really comes with certain issues that need to be addressed. It isn't just a one size fits all meeting. Each client is a real person and the only way we get to know them is by listening to them.
So if you are coming in, make sure to write down what questions you have. What are the things that you want to make sure you ask the lawyer about? Why are you there and what is it that you want to accomplish?
Now don't be shy. If you have something that is important, it needs to be addressed. We've been asked all sorts of things and are there to work for you. Remember that you are doing the hiring and not being hired.
I hate it when a week or even months later, I hear from a brother or a friend of the client that the had some issue that we didn't get to. It's not the client's fault, it's really more because I didn't make sure those issues were addressed. I work on that by always making sure the client has my card and my cell phone number to call me if something was missed. We have a paralegal on every case so they have someone to call in the office during all business hours. We also have our phones answered 24 7 so that there is always someone there to answer and pass the emergency calls along.
I will spend night hours or weekends making sure those calls are returned and that issues are addressed.
Keep in mind that we find out about you from you.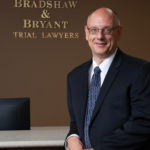 A founding partner with Bradshaw & Bryant, Mike Bryant has always fought to find justice for his clients—knowing that legal troubles, both personal injury and criminal, can be devastating for a family. Voted a Top 40 Personal Injury "Super Lawyer"  multiple years, Mr. Bryant has also been voted one of the Top 100 Minnesota  "Super Lawyers" four times.