I recently came upon a story in the St Cloud Times that talked about a Car- Horse collision in Todd County:
The Todd County Sheriff's Department reports that a group of horse riders was headed north on 315th Avenue when a riderless horse broke free from the group and galloped ahead. A few of the riders attempted to catch the horse. A 1997 Ford Escort driven by Jessica Muellner of Burtrum met the group. Muellner didn't see the horses in time to stop, and the car collided with a horse ridden by a 13-year-old girl from Grey Eagle.
For those injured, it is hoped that they heal quickly.
From time to time we see these kind of collisions in our office. A vital part of figuring out what happened is early investigation. It is vital that certain information is found out:
1) Who owns the animals?
2) Why they were out in the road?
3) Have there been prior instances?
4) How long were they loose?
Skilled insurance investigators can get out in front and close a lot of the doors that needed to be looked through. People will deny ownership and come up with all sorts of stories about what happened. Do defendants get threatened or scared with stories about the possible loss of their farms? I guess only they know.
The Minnesota law is actually very good concerning protecting people who are injured from animals that aren't meant to be in the road. But, experienced representation is often needed to insure that these protections are proved and pursued.
As always with any Minnesota motor vehicle collision. No fault coverage is available for early medical care and wage loss. Sometimes your own insurance company can be helpful, as this is one of the rare situations where they can get money they paid back. But, always keep in mind who they are working for and who's money they are interested in.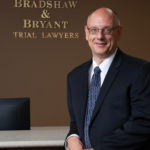 A founding partner with Bradshaw & Bryant, Mike Bryant has always fought to find justice for his clients—knowing that legal troubles, both personal injury and criminal, can be devastating for a family. Voted a Top 40 Personal Injury "Super Lawyer"  multiple years, Mr. Bryant has also been voted one of the Top 100 Minnesota  "Super Lawyers" four times.