Hulk Hogan has been quite a topic here at the Injuryboard with all of the lawsuits he's into. I even spent a little time on his coco pebbles case not that long ago. He's again caught my attention, this time with a lawsuit against his ex-wife.
He seems to be suing her more for being his business manager. The basis of the suit seems to be that she should have bought more insurance to protect his assets in situations like what happened when his son Nick, went out and severely injured one of his friends in a car crash.
The average person should ask themselves if they have enough coverage regularly. Most of us don't have business mangers who get paid to be asking that question.
If you have multiple car, the no fault coverage should be stacked.
You should have as much Uninsured and Under insured coverage as you can reasonably afford.
If you have substantial assets you should make sure you have enough liability coverage to protect you.
If you buy an umbrella policy, make sure you get one that gives you UM/UIM protection
Too many of our clients don't understand the importance of good coverage until they need it.
What will happen to the Hulkster's lawsuit? It will depend largely on what was Linda's role and what were her job duties? What was she supposed to do when she bought the insurance? But, it seems that this is a much better lesson on how important it is to protect you and your family.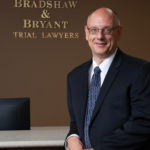 A founding partner with Bradshaw & Bryant, Mike Bryant has always fought to find justice for his clients—knowing that legal troubles, both personal injury and criminal, can be devastating for a family. Voted a Top 40 Personal Injury "Super Lawyer"  multiple years, Mr. Bryant has also been voted one of the Top 100 Minnesota  "Super Lawyers" four times.