Over the last few years, I have noticed on the roadsX as the weather has gotten bad, people have gone to using flashers as they are driving. I have seen this in snowstorms and also in very dense fog. I would suspect the idea is that by putting on their flashers they are letting people know where they are as they travel down the road.
Minnesota Statute 169.64   provides:
Subd. 3.

Flashing lights.

Flashing lights are prohibited, except on an authorized emergency vehicle, school bus, bicycle as provided in section 169.222, subdivision 6, road maintenance equipment, tow truck or towing vehicle, service vehicle, farm tractor, self-propelled farm equipment, rural mail carrier vehicle, funeral home vehicle, or on any vehicle as a means of indicating a right or left turn, or the presence of a vehicular traffic hazard requiring unusual care in approaching, overtaking, or passing. All flashing warning lights shall be of the type authorized by section 169.59, subdivision 4, unless otherwise permitted or required in this chapter.
A review of this statute shows when they are supposed to be used. My concern when you see somebody with flashers is it tends to give off the belief that the person is stopped. For a vehicle driving close to the speed limit and is also using their flashers, there is an inconsistent message being sent. They really aren't a traffic hazard and really should be totally off the road.   Considering it is being sent in the middle of a weather emergency, that type of misinformation could add to the dangers.
The proper use of headlights is required by law according to Minnesota Statute 169.64.
If the roads are so bad that you believe that emergency flashers are necessary, I would strongly suggest considering getting off the roads.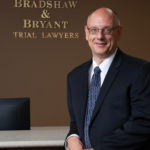 A founding partner with Bradshaw & Bryant, Mike Bryant has always fought to find justice for his clients—knowing that legal troubles, both personal injury and criminal, can be devastating for a family. Voted a Top 40 Personal Injury "Super Lawyer"  multiple years, Mr. Bryant has also been voted one of the Top 100 Minnesota  "Super Lawyers" four times.