I follow "Trial Lawyer" in my Google alerts. Often, the stories are from tort reformers and about this crazy lawsuit or that bad thing done by lawyers. They use it as proof that those responsible for injuries shouldn't be forced to take responsibility or that there should be caps on that responsibility.
I've always felt, as with every profession, you will find some bad ones. I'm not going to ever defend bad acts. Howevere, I do also know that there is a lot of good being done.
Take a little time at the Trial Lawyers Care website. There is some amazing stuff going on. It includes hands on projects and school education projects like preventing distracted driving.
It is worth checking out.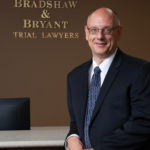 A founding partner with Bradshaw & Bryant, Mike Bryant has always fought to find justice for his clients—knowing that legal troubles, both personal injury and criminal, can be devastating for a family. Voted a Top 40 Personal Injury "Super Lawyer"  multiple years, Mr. Bryant has also been voted one of the Top 100 Minnesota  "Super Lawyers" four times.