It's a question that personal injury lawyers get from time to time. Because of ongoing law changes the questions keep coming.
It scares the heck out of client to suddenly get a letter that looks like a bill. They usually rush into the office with the letter in hand. Why Medicare sees the need to do this is beyond me. Especially, when they are on notice that the person is represented and all of the paper work has been returned as it was required. In fact, the original notice for claim mostly likely came from the attorney's office.
These are not bills. They are subrogation interests, that are only owed if money is received from the at fault party. Now don't misunderstand, these governmental interests must be dealt with. It's one of the many different ways that an experienced lawyer can prove their value to you in your case.
So if you get this letter, get a hold of your lawyer and make sure it's being dealt with. As long as it is, sit back and keep working on getting better.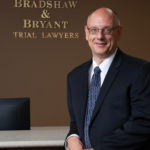 A founding partner with Bradshaw & Bryant, Mike Bryant has always fought to find justice for his clients—knowing that legal troubles, both personal injury and criminal, can be devastating for a family. Voted a Top 40 Personal Injury "Super Lawyer"  multiple years, Mr. Bryant has also been voted one of the Top 100 Minnesota  "Super Lawyers" four times.