I recently came across a neighborhood sign that said "Car Accident – Do it Yourself, Keep all the Money" and then there was a phone number. I was going to call it but then I figured, why bother? It does sound interesting that someone is giving out advice on how to represent yourself. It makes you wonder, are they a lawyer? Is this actually a sign intending to get people in car accidents to really give them a call and see how complicated it is to represent yourself? Is it some disgruntled former client who did not like the way things turned out and is now trying to prevent people from having the same problems? Maybe someone had a great result and has now figured out how to do it on their own?
I am sure there are cases out there where, under the right circumstances and with the right good-hearted adjuster, good things can happen. However, research has shown that a person who represents themself gets about 1/3 of what they would have received if they had been properly represented.
There may be a certain satisfaction in knowing you did it yourself. I have never been one to tell people who are happy with their settlement "gee, you would have done a lot better if you had been represented." I have thought it a number of times though.
I would guess that if a person is satisfied with what they received, who am I to tell them that they should have gotten more? I can assure you the insurance company did not do anything to persuade them out of their glee of taking care of it themselves.
There also may be some joy in knowing that a lawyer did not get any money from their case. I have seen that mentality, but I do not really understand it. It is like saying, I want to go butcher my own cow because I do not want the supermarket to make money, or I want to tap my own oil well because I do not want the gas stations to make any money, or putting a bowl on your head and cutting your own hair so the barber does not make any money. Personally, my lack of hair has nothing to do with my feelings about my barber. When you compare the job that the experienced professionals do and the amount of time it takes for them to do a good job, it really does not seem like you are giving yourself a fair tradeoff.
Ask yourself, what do you do for a living? What are you good at? If it is representing people, negotiating settlements, and trying cases, you are probably the right person to negotiate your own case, although you still might be too emotionally attached to it. But if you aren't and your expertise is in another area, maybe your time would be better served and you will get a better result if you get the right law firm to take care of you.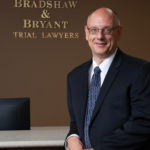 A founding partner with Bradshaw & Bryant, Mike Bryant has always fought to find justice for his clients—knowing that legal troubles, both personal injury and criminal, can be devastating for a family. Voted a Top 40 Personal Injury "Super Lawyer"  multiple years, Mr. Bryant has also been voted one of the Top 100 Minnesota  "Super Lawyers" four times.