Sponsored annually by the Department of Public Safety Division of Homeland Security and Emergency Management (HSEM), last week was Winter Hazard Safety week. Each day is devoted to a different topic concerning winter safety. To help with the effort, cities across the state are holding forums, providing daily winter safety tips and publicizing the effort in local newspapers and on city websites.
The week is broken down as:
The Minnesota Safety Council recommends the following tips:
Make sure your car is ready for the season. Throughout the winter, keep your gas tank at least half full to avoid gas line freeze.
Avoid traveling, especially alone, if severe weather is threatening.
Before taking a trip, inform someone at your destination of your expected arrival time and your travel route.
Stock your car with basic winter driving equipment: a scraper and brush, small shovel, jumper cables, tow chain and a bag of sand or cat litter for tire traction. Also include road flares, a blanket, heavy boots, warm clothing, and a flashlight with batteries.
Keep an emergency survival kit in the car, including high-energy food such as a chocolate bar or energy bar.
If your car has been outside during a snowfall, brush all the snow off before starting out. Snow left on the front hood will blow into the front vent and cause defrosting problems, and can also melt and re-freeze on the windshield. Snow on the roof will cover the rear window and snow on the rear deck will blow onto tail lights. Pay particular attention to cleaning off headlights and tail lights so that other motorists can see you.
Adjust your speed to the conditions and increase following distances.
Remember that bridges and overpasses can be more slippery than other parts of the road. If you begin to skid, remain calm, ease your foot off the gas and turn your wheels in the direction you want the front of the car to go. If you have an anti-lock braking system (ABS) apply a steady firm pressure to the brake pedal. Never pump ABS brakes.
If even after following all precautions you find yourself stranded, stay calm and stay put. Staying in your car will decrease your risk of frostbite or hypothermia and increase your chances of being rescued. Run your engine for heat about once an hour, (every half hour in extreme cold.) Make sure your exhaust pipe is clear to prevent the back up of carbon monoxide. Leave one window slightly open. Tie a piece of brightly colored cloth to your antenna to alert others and aid rescuers. Limit your sleep to short naps.
Consider keeping a cellular phone for use during emergencies. For long trips, be sure the batteries are fully charged and consider bringing a spare battery. Keep the phone and batteries warm to avoid quick power drain. Because driving requires your full attention, it is recommended that you find a safe place to pull off the road when you need to make a call.
Identifying the reason behind the week the HSEM press release identified the issues:
Over the last 10 years, more than 50 people drowned after falling through thin ice, and 65 percent of ice drownings were vehicle related. Last winter, 22 people died in snowmobile accidents; half those fatal events involved alcohol or drug use. And during 2005–2007 in Minnesota, officers reported snow or icy road conditions in nearly 41,000 crashes that resulted in 159 deaths and 13,000 injuries. Clearly, people are being "surprised" by weather conditions."
The plan is, no matter how harsh the winter, to make sure everyone is safe and alive at the end of it.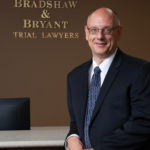 A founding partner with Bradshaw & Bryant, Mike Bryant has always fought to find justice for his clients—knowing that legal troubles, both personal injury and criminal, can be devastating for a family. Voted a Top 40 Personal Injury "Super Lawyer"  multiple years, Mr. Bryant has also been voted one of the Top 100 Minnesota  "Super Lawyers" four times.