This past week, the Minnesota Insurance Federation has been touting the findings of a study on Minnesota No Fault from the Insurance Research Council. They claim the research is from an independent group. A quick internet search of the council finds that this group describes themselves as supported by leading property and casualty insurance companies and associations. A look at their members include :
American Family Insurance Group
The Hartford Financial Services Group, Inc.
National Association of Mutual Insurance Companies (NAMIC)
Property Casualty Insurance Association of American (PCI)
State Farm Insurance Companies
United Services Automobile Association
It's doubtful that the research is as independent as the federation has claimed.
On closer look, it seems that this group has been doing research in other states concerning no fault coverage. In each case, the study seems to come up with only negative information. This could be just a coincidence, or more of a sign of what conclusions they and their members are really looking for.
Reviewing the states they did look at. Florida lost no fault for a short time due to a sunsetting clause. Due to the disruption that was caused, the Florida legislature and Governor went into an emergency session to bring it back. Colorado significantly changed it's system a couple of years ago and the consumers seem to be increasingly complaining about the reduction in benefits.
At the very heart of the latest study is an attack on the Minnesota No Fault system. The research is based on a review of 500 cases. As of yet, they do not seemed to have disclosed why they used this number or where they got the 500 cases from. Did they come from different companies or a group of them? Did they look at cases that were arbitrated? Did they compare the time frame of is the claim was in it's early stages or had been going on for a while?
According to the American Arbitration Association in Minnesota there were 4986 No fault arbitration filings in 2006 and 4870 in 2007. Of those filing the claimant won everything requested 11% of the time in 2006 and 9% of the time in 2007. The average claim was 6547.00 in 2006 and 7224.48 in 2007. The average award was 4634.00 in 2006 and 5311.66 in 2007. Seems to me these numbers better reflect what is going on vs. a small subset that may have come from companies that regularly delay, deny and defend every claim.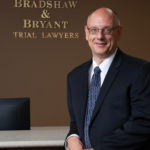 A founding partner with Bradshaw & Bryant, Mike Bryant has always fought to find justice for his clients—knowing that legal troubles, both personal injury and criminal, can be devastating for a family. Voted a Top 40 Personal Injury "Super Lawyer"  multiple years, Mr. Bryant has also been voted one of the Top 100 Minnesota  "Super Lawyers" four times.