In Minnesota, every auto insurance policy is sold with minimum No Fault limits of $20,000 in Medical and $20,000 in wage loss. With some companies, you can buy more coverage in each of these categories. Since wage loss is paid at the amount of $250.00 per week, upping those limits are important to almost any income.
The easiest way to increase your limits is if you have multiple cars on the same policy. In this case, you can stack those benefits. Basically, your benefits are multiple by the number of cars. Two cars will double the total limits and the weekly wage loss payment. When comparing the price to the actual benefit is received, stacking the benefits are a very small increase.
At the time you are sold your coverage, you are supposed to be asked if you want to stack your benefits. Usually insurance agents will have you sign off if you don't want the coverage. Make sure you understand what it is you are turning down and what the extra coverage would cost.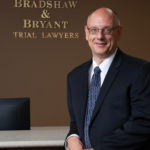 A founding partner with Bradshaw & Bryant, Mike Bryant has always fought to find justice for his clients—knowing that legal troubles, both personal injury and criminal, can be devastating for a family. Voted a Top 40 Personal Injury "Super Lawyer"  multiple years, Mr. Bryant has also been voted one of the Top 100 Minnesota  "Super Lawyers" four times.